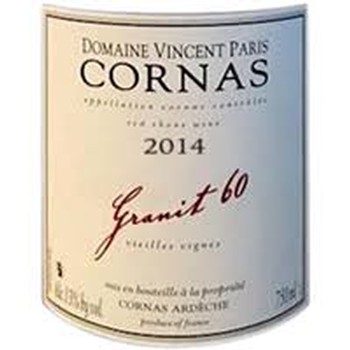 Vincent Paris Cornas Granit 60 2014
Vincent Paris, whose first vintage was 1997, is as shy as his wines are bold. In his early 30's, he has retro sideburns, but not much else in the Cornas appellation's new star is "retro". Vincent's uncle is Robert Michel, one of Cornas' finest growers. He made his two first wines with his uncle then, seeking autonomy, rented facilities for the vinification of his most recent wines. He is in the process of building his own winemaking facilities with a courtyard that holds his apricot plantation.
The Cornas Granit 60 designation refers to the soil, the approximate age of the vines, and the slope on which they are planted. The 60 is classic Cornas – dense, aromas of kidney and iron, with a terrific mineral underpinning.