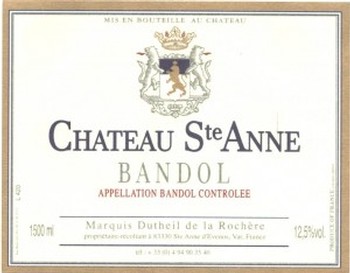 Saint Anne Bandol 2012
In Bandol, the proximity of the sea, the windy atmosphere between the steep hills there, have created a micro climate which makes it possible to plant and grow on terraces in spite of the brutal summer heat. Sainte Anne is located only a few kilometers away from the Mediterranean. Bandol reds are usually made with 65 % to 100 % of Mourvèdre. The Bandol Appellation was officially created in 1941 during the German occupation.
The Dutheils began natural winemaking in the 1960s. Everything is done naturally. The grapes are totally hand harvested, fermented by indigenous yeasts, no fining or filtering, no cooling tanks, no additives of any kind except for a touch of sulfur at bottling if necessary.
Wine Specs
Varietal
Mourvedre/Syrah/Grenache