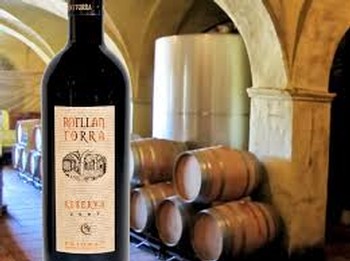 Rotllan Torra Priorat 2012
Concentrated Cabernet Blend
Rotllan Torra Crianza 2011 is a red wine from Priorat that may rightly be called "traditional" in the best sense of the term. Crafted by the Jordi Rotllan Torra , this red wine is made from a blend of 35% Grenache, 25 % Carignan and 30% Cabernet Sauvignon.
The grapes come from vines about 25 years old grown in the famous llicorella (decomposed slate) soils.
Manually harvested at noon to protect the grapes from excessive heat, the bunches were carefully selected, brought to the cellar and destemmed. Fermented and macerated with the skins, the wine subsequently completed malolactic fermentation and a 12-month ageing period in 2nd year French and American oak barrels.
I suggest that you decant Rotllan Torra Crianza -an honest, trustworthy Priorat-, for at least 30 minutes before you drink it. You'll be rewarded with an intensely dark, saturated red wine with a whiff of chocolate, eucalyptus, and blackberries.
This item is currently out of stock.
Wine Specs
Varietal
Grenache/Syrah/Cabernet Sauvignon