 Rey Sisquo Rouge 2017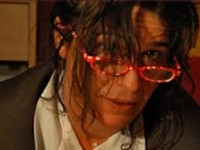 I met Cathy Sisquelle about a year ago under auspicious circumstances. She greeted me cordially on a sunny Saturday in the Roussillon (near Perpignan) and we began by having a quick tour of her small winery. As we stepped through the door, Cathy screamed and was instantly on my shoulders looking for protection. Of course I had no idea what was going on until she pointed ahead of us on the floor.
Snake.
Husband Philippe showed up a few moments later (the scream was loud) and looked at the two of us like we were total fools. "It's dead," he proclaims, and kicked it with his boot. It slithered away. Not dead.
Eventually Philippe found and disposed of the serpent and we merrily went about our business, neither of us liking snakes very much, but probably more intimately introduced to any winemaker I've met in 25 years of doing this.
Cathy creates a large range of wines at Chateau de Rey. Red, white, pink, young, older, dry, sweet, bubbly...you name it. She caterrs to lots of tourists and locals with an inexpensive bag-in-box, but its her 'Sisquo' (the Catalan spelling of her last name) line that really hits home for us. This red gives remarkable bang-for-the-buck, a dark and brooding red wine that you can immediately tell comes from a sunny place. Grenache, Syrah, and Mourvedre do the heavy lifting here and give a wine with great richness and an almost chocolatey sensation.
A great house wine!