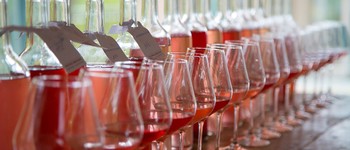 Pink Don't Stink 6-pack v.2019
Now at first blush "Pink Don't Stink" seems an unseemly sort of name. But we've been referring to our annual summer six-pack of rosé by this monniker for almost five years now. Why? Well, I can't even remember the customer's name but way back in the day a guy comes to me and with the tried and true idea that all rosé was for sissies and that he hated them because they're all sweet and gummy and sappy and gross--like a Valentine's card I guess. Anyway, he's there to grab some for "a friend" and we mix him up a nice little sixer and send him on his way.

I knew what would happen next. I knew the guy would like these wines, and be back for more. I just didn't know he would come back through the door a week later and say, "hey, those pinks don't stink!" He saved face, got enlightened, and gave us a cheeky phrase to name a product by. Win, win, win.

But here's the thing. The way rosé has been made in most of the world over say, the last 75 years hasn't changed much. Hopefully wine archaeologists will look back on the 70's and 80's as a blip on the pink radar screeen, realizing that bottling rosé with residual sugar was an experiment gone wrong. Kind of like betamax.

A rosé worth discussing is a dry one. This simply means that the grape's natural sugars have all fermented into alcohol. Nothing more, nothing less. Once that happens the final wine becomes a refreshing and delightful example of really, really light colored red wine--red wine that's okay to drink cold, and drink often. In fact, I think rosé has completely turned a corner and is firmly in the mindset of the wine consumer. For perhaps the first time in a 25 year wine selling career I sold rosé all year last year. That's right, folks were jonesing a little summer reminder in January and February. Now that's an idea to embrace!

This year's mix is a French/Italian affair, six bottles from across the Mediterranean, and all made by women winemakers. We weren't trying to do it that way, it just unfolded. From the Roussillon, Languedoc, Ventoux,and the Rhone, plus a big surprise from Lake Garda near Verona, here are six wines to hang your hat on for the next 3 months--all fresh, lively, dry examples of the best in pink wine.
Enjoy!