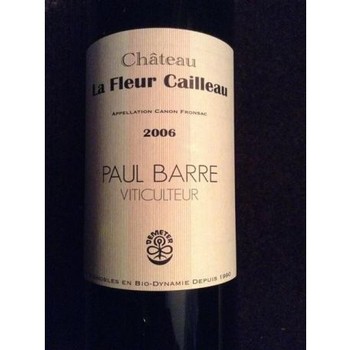 La Grave Fronsac Fleur Cailleau 2012
Courtesy of Wine Terroirs:
Chateau La Grave is located in Fronsac near a curve of the Dordogne river east of Libourne. We met him on a work day for a visit during a typical Bordeaux-region day with bright sunny moments and bouts of rain in the same day.
He begins to say jokingly that he could begin his life as a vigneron because his teachers in school where well-inspired to let him go. What was felt as a depreciating exclusion at the time turned out to be a great chance. He followed suit to a retiring vigneron. He was 19 and could have taken the road and travelled the world, but this opportunity to follow the vigneron life came at the right time. His father and grand-father were both in the wine world in Bodeaux, they were wine brokers (courtiers en vin), as well as other family members. He himself tried this profession but didn't feel it was his path. His brother became one of the well-known brokers in Bordeaux (Barre et Touton). He learned the job from scratch then, in 1975. La Grave had a vineyard surface of 4,2 hectares then. He also had a few other vineyards, rented some more for a peak of 15 hectares and came back to the present surface of 7 hectares today. This size fits him well. He began rapidly to follow organic farming with the Lemaire-Boucher structure, but he was not satisfied with the spirit of this system. there was no freedom in this organic-products label, you had to buy all their products and so on. After hearing about biodynamy in 1977-1978 and 1985, the understanding of this method slowly made its way and he decided to apply it in his vineyard in 1990.
Wine Specs
Varietal
Merlot/Cabernet Franc/Cabernet Sauvignon