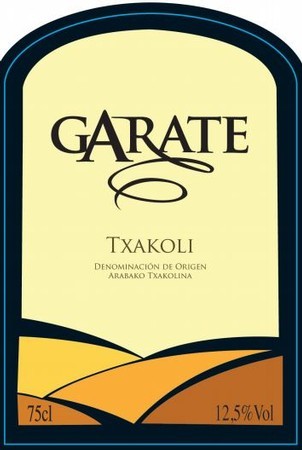 Garate Txakoli 2016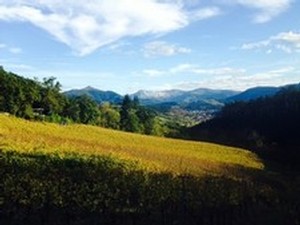 The white Txakoli from Egoitz Zubiaur is unlike any Spanish white we've encountered. In San Sebastien, about an hour north, most Txakoli are spritzy from the addition of CO2 at bottling. It's a way of softening an otherwise harsh and acidic white wine. But here, near Bilbao, the Txakoli is totally different, made in a tranquil style, with more richness, but still oh-so refreshing.
The Garate vineyards are at about 450 meters, and only 30 minutes from the Atlantic. This combination of altitude and maritime influence means that there is never high alcohol and always a refreshing acidty and liveliness. The pale yellow color of the wine, served nice and cool, just LOOKS thirst quenching!
Most Txakoli is made from the local grape Hondarribi Zuri, a native Basque grape that I've never seen anywhere else in the world. The grapes are naturally small and have concentrated aromas and flavors of white flowers, citrus, and exotic spices. There's no decision making necessary on the right time to open a wine like this.
Always.
Wine Specs
Appellation
Txakolina Arabako