Claouset Bordeaux Futs de Chene 2016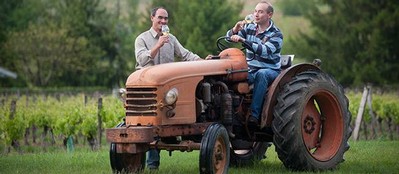 David Siozard is on his tractor right there drinking Bordeaux. The photo might be a little staged, but the content speaks volumes. Who wouldn't want to be doing that?
A few years ago a neighbor unearthed the remains of what have now been identified as Gallo-Roman houses. It was proof positive that humans have been making use of the agricultural qualities of this region--known as Entre-deux-Mers for thousands of years. But the work of the Siozard brothers over the last 10 has been transformative and remarkable.
By the late 90's this was an estate in disrepair--poorly farmed, a rundown winery, and lifeless wines. But today, we have a gem on our hands and a thoroughly different experience. Wines at Domaine de Claouset are clean, bright, energetic, and thoughtful, a lot like David.
The Domaine de Claouset Rouge Futs de Chene 2016 is shockingly delicious--a veritable salad bowl of red fruits. This is one of those bottles I would put someone's hands that wrongly believes all Merlot sucks. Why? Because it proves in fact, that um, all Merlot doesn NOT indeed suck. In fact, from properly farmed vines, and splish-splashed with some structured Cabernet Franc, it makes for an uncommonly rich and complex wine.
The 'Futs de Chene' designation means that the wine benefitted from a short aging in barrels. Not those new, smoky, toasty barrels mindy you. The older used barrels give the wine a silky, rich mouthfeel and sort of "warm up" the wine finished wine.
This is the everyday wine at Claouset and is impossibly good for under $15. The range improves from here. But you know me, I like finding the great value in the everyday bottle. And this one is it!
This item is currently out of stock.
Wine Specs
Varietal
Merlot/Cabernet Franc/Cabernet Sauvignon