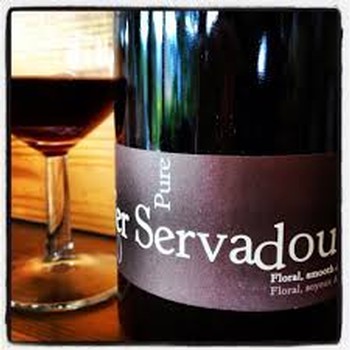 Chateau de Brau PURE Fer Servadou 2018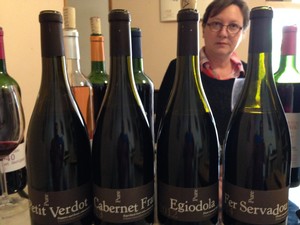 I was at first attracted to the wines of Chateau de Brau when I stumbled onto their website a year ago. Proprietor Gabriel Tari is pictured front and center with the caption "No, No, and No again!" prominently displayed. What follows is something of a diatribe on what working naturally means to him. "There are no prestigious ruins", "not every vintage is exceptional", and "organic farming isn't just a matter of doing nothing while the weeds grow."
Say it some more, brother!
I liked Gabriel and his wife Wenny before we even met. Then when we did finally meet, the like turned to admire, and since then the admire has turned to adore. I adore what the Tari' are doing in their little corner of the south of France. Carcassonne is only 15 minutes away, the Pyrenées and the Montagne Noir loom in the distance. Their home is equidistant from the Mediterranean and the Atlantic. In fact, their appellation, Cabardès (KAH-bahr-dez), lies on almost a continental divide, or fall line between the seas. Neat stuff, and more on that in the future.
There's a large range of wines here, yet I would call this a small winery, as most of the bottlings are only a few thousand bottles each. I was most excited by a lineup called Pure, and I could tell from Wenny that she and Gabriel favored these too. Typically in Cabardès it is required to blend a combination of Atlantic grapes (Franc, Sauvignon, Merlot) with Mediterranean (Grenache, Syrah, Cinsault, and others). And at Brau they have them all, nearly 15 different grape varieties all told! But, each year Gabriel separates a handful of plots to bottle single grape varieties in this Pure range. I think I tasted 10 altogether, each no more than a few thousand bottles produced! This is exactly the kind of stuff we're looking for.
Fer Servadou is a truly local grape, mostly used in the neighboring Marcillac appellation. Fer means "iron" in French, a possible testament to the strength in the wood, and for me because the wine has an almost meaty, iodine quality that screams "country!" Dark red color and a wild fruit salad of aromas and flavors. Neat stuff.
A wonderful country red wine for the price and one worth returning to again and again!
Wine Specs
Appellation
Vin de France