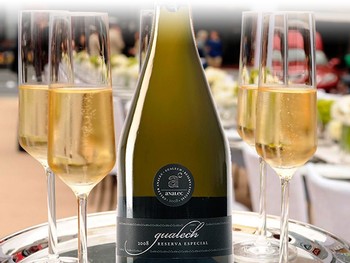 Bubbly Cru 6-pack Spring 2021
Three Spanish wines to showcase this Spring to anchor your Bubbly Cru 6-pack. These are the opposite of that cheap and sweet Cava that is available in every trains station bar from Barcelona to Valencia. Get ready!
To accompany them, a pair of rosé--one French and one Italian and finally, a new wine from the young vigneronne Laura David in Montlouis.
Here they are:
From the remote and rural Cellar Analec, in the picturesque Val Riu Corb, come these two delightful sparklers.
Celler Analec Sort Abril--Susi's wines are super delicious, and ridiculously inexpensive too. Her family vineyards are at about 550 meters, essentially among the highest elevation vines in Catalonia, and a necessary ingredient when cultivating enough acid to make refreshing, sparkling wine. They make just 5,000-10,000 bottles a year. For a massive producer like Codorniu and Freixenet, this would be nothing more than a rounding error. I've often wondered if Cava could be made on a farmhouse scale. A Susi's Celler Analec, I found my answer - yes, indeed.
Cellar Analec Gaulech Reserva 36 months--If this was Champagne, aged 36 months on its lees before disgorging, grown on high elevation hillsides, and made in a Brut Nature style, it would be a $75 bottle. But, here on the high plains of Catalonia you could own three bottles for that price, with a Lincoln left over. This was my favorite wine of Susi's--reminding me of how much I like dry, low-alcohol, minerally sparkling wine. It is an unusually refined bottle of bubbly that would blow away any discerning sparkling wine freak.
Also from Catalonia, the first ever Cava produced by Marc Bornazuea at Terra Remota.
Terra Remota Cava Adelita Brut Nature--Terra Remota's wines get scooped up immediately by restaurants in Roses, Girona, Figueres, and Barcelona, and their local success has left many of their exporters high and dry. And with only a few thousand bottles of each wine to go around it's no wonder that when these wines are finally offered for release by the winery, they're gone in just a few months. But last year, during a visit on a gorgeous sunny afternoon, I got the timing right and placed an order for this wine on the spot--their first ever sparkling wine--a glorious Cava, with aromas reminiscent of the sea nearby, nice and dry, and ready for a cool evening on the back deck.
From France, a lovely Pinot Noir Rosé from our friend our English friend Toby Bainbridge, toiling away quietly and wonderfully in the Angevin countryside.
Toby & Julie Bainbridge La Danseuse Rosé--

What is it? Well, this is pink, finely bubbled, naturally-bottled Methode Ancestrale Grolleau Noir (a local grape) that is heady, gorgeous, rosy pink, and downright wonderful. La Danseuse translates to "The Dancer" in French, but the labelling is a little more tawdry than that. La Danseuse can also refer to the barrel of wine that a vigneron would put aside for his mistress (in days past of course!).
Also from France, our first ever bubbly import from the star-in-the-making Laura David.
Laura David Montlouis Methode Traditionelle--Laura David and I had originally met in a room that was the antithesis of a cool troglodyte cave — hot, sweaty, and thick with the stench of humanity sloshing and spitting wine into small buckets. One unseasonably warm day a few years ago, Elizabeth and I made plans to visit a small gathering of winemakers in Paris. We trekked up by train, then walked to the venue. Laura greeted us with this wine--a bone dry, instensely fizzy Chenin Blanc from her Montlouis vineyards. We toasted together, and never looked back.
And finally, an Italian sparkler from Treviso, brought to you by the raconteur Pier Sfriso.
Sfriso Brut Rosé--Following last year's harvest he tried something nearly unknown in the region--a Brut Sparkling Rosé. Line 'em up friends! This is Pier's only wine that has considerably changed over the years. He initially made rosè from Merlot grapes in sparkling, fizzy and still wine formats. This Brut Sparkling Rosé is instead made out of their Verduzzo Trevigiano (a long time local variety) and Cabernet Franc grapes that grow in his vineyard next to the winery. And it is just too good!
I hope you enjoy them all!