Si Le Vin (Rhone, Peaugres)
AOC St. Joseph & Condrieu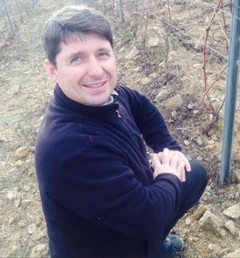 I met a winemaker named Sylvain Badel almost by chance a few winters ago and really within 10 minutes I knew we had something terrific. He took over his grandfather's land almost 20 years ago, and switched their beautiful property from apricots and cherries to the more lucrative Syrah grape. We took a drive, toured his garden-like vineyard, then tasted an awesome lineup of bottles.

Before he died, Sylvain promised his grandfather that he wouldn't just maintain the status quo by selling grapes to the cooperative, or making the same old stinky, boring wine everyone else was making. His grandfather nudged him that if he was going to do it, he had to push the envelope--try something new.

So Sylvain did. He planted on extreme slopes where no one else thought it was possible. He tended his vines organically while others used pesticides and herbicides. He worked his land with a horse while his neighbors laughed at him while sitting on their tractors. And, most importantly, he waited more than 10 years to put something commercial onto the market.
He also broke free of the Syrah mold that dominates the vineyard landscape in the northern Rhone and planted a white often used in blending--Marsanne. I typically find Marsanne a little simple and boring, soapy and flabby. But here, on steep granitic hillsides, I find it with surprising freshness and zip. And to top it off, the concentration is amazing.
We'll keep our eyes on Sylvain Badel over the years--one of the rising stars of the northern Rhone!