Maison Viticole Schmit-Fohl (Ahn, Luxembourgish Moselle)
Crémant de Luxembourg, and Luxembourgish Whites
Are you checking your calendar to see if it's April 1st? I must be joking, right? Luxembourg? It's no joke, but it almost was, and with some facts and figures, here's why:
There are just 25 independent wineries in Luxembourg that cover just 3000 acres of vineyards
98% of all Luxembourg produced wine is sold and consumed, you guessed it, in Luxembourg
Over the last 15 years, only 47 total wines have been registered for approval in the US.
Only 8 of those wines were made by an independent winery. The rest came from large cooperatives.
1/3 of Luxembourg's production is sparkling wine
And now you're saying to yourself, okay dude, with all that said, you still went wine hunting in Luxembourg? It's small, they don't export, there's no wine to sell, and the wines are essentially unknown in the US.
Yes. Yes I did. That's correct.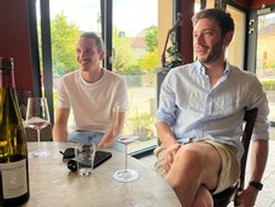 All of Luxembourg's vineyards are situated on the left bank of the Moselle river. Aha! Now there is a wine river you recognize, isn't it? The Mosel (as it is spelled in Germany) is well-known for world class Riesling. Yes it is, but here's a little secret... At certain parts of the Moselle you could crank a well struck 3-wood from one bank to the other. It's that close. And, there are vineyards on both sides, you know.
So like the good wine importer I am, instead of going with the flow, I swam upstream in May 2023 with a few intrepid Cru disciples and crossed the bridge at Remich to see what was going on in Luxembourg. And what we found was so interesting that I've already been back, just a few weeks ago with Sebastien, to confirm whether the first visit was just a fever dream.
It wasn't.
I'm going to have a lot to say about Luxembourg over the years, but for now we decided to start small (with just our House Club members) and focused (with a mix of six wines from these guys). For me, these were the bottles that made the biggest impact and will set the table with more goodies to come. You'll be among the first to give these a try, not just with me, but with anyone in the world outisde of Luxembourg!

Introducing Domaine Schmit-Fohl
Brothers Nicolas and Mathias Schmit (pictured) are the minds behind this lovely village winery in Ahn, a picture postcard place about 25 minutes from Luxembourg city. Their father does most of the vineyard work and tractoring, Nicolas makes the wine, and Mathias sells it to his restaurant buddies all around this country of just 600,000. Their vineyards are steep, and most are situated on an east facing hillside near the town of Wormeldange. It is idyllic and gorgeous.
I had come to Luxembourg in the first place for sparkling wine (Luxembourg is one of seven regions, and the only one outside of France, allowed to use the word Crémant on the label). But after four hours, and a lunch the next day with the Schmit boys, it was clear that the insider's secret was with dry white wines. You'll get one of each of the following:
Rivaner Cotes de Ahn 2022--also known as Muller-Thurgau elsewhere in the wine world, and especially in Germany. A great leadoff hitter to the Schmit-Fohl style.
Elbling Cotes de Ahn 2022--often used to make German sparkling wine, but after WWII, make one of the most important white grapes of Luxembourg. Make it ice cold and slurp it down. Then call us for more.
Auxerrois Ahn Goellebour 2022--sneakily complex white here that reminds me of a cross between Riesling and Chardonnay. High-toned and aromatic, but with a certain richness in the mouth the others don't have.
Pinot Blanc Ahn Vogelsang 2022--I used to say that the only place in the world that should grow Pinot Blanc is Alsace. Well, no longer. I'm a Luxembourg convert now. Honeyed, mouth-watering, and fresh.
Pinot Gris Wormer Walbour 2022--loaded with peaches, apricots, and tart green apples. Ready to go along with your next weinerschnitzel with spaetzle!
Riesling Ahn Vogelsang 2022--aaaah, the best for last. Yes, the Riesling is really that good. Orange rind, peaches, and jasmin flowers galore. A dry, tense Riesling with neverending complexity.
I hope you enjoy these wines as much as I enjoyed discovering them. I think you'll be back for more!