Mas Karolina (Roussillon, Saint-Paul-de-Fenouillet)
AOC Cotes-du-Roussillon, IGT Cotes Catalanes, and AOC Maury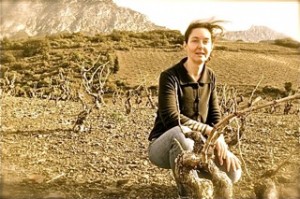 We are now full steam ahead with our work with Caroline Bonville, a young vigneronne and friend living in Maury, a sleepy village in the Roussillon, France's south, near the border with Spain. I met her about 6-7 years ago and have always coveted her fine work. A few years ago when I decided to launch Road Cru, I called her first.
Growing grapes in the Roussillon, especially in and around Maury, is not for the weak. I've visited here during different times of year and I always leave shaking my head. Cold and biting wind in winter, highs near 110 every day in summer. Thick-walled stone houses keep one warm or cold depending on the season. But growing things? Its a commitment like nowhere else in the grape growing world maybe. This is a starkly beautiful, moon-like place (look at that photo). It hardly rains, and the granite and schiste, while lovely for photos and great for tasty grapes, is rocky, rough, and difficult to work.
As I spoke with Caroline last month my jaw dropped when she explained the naturally low yields from her gnarly old Grenache, Syrah, and Carignan vines. In the Rhone, or Bordeaux, or Tuscany, or even in California or Oregon, a vineyard yields in the neighborhood of 2.5-3 tons per acre, or in French terms, 50 hectoliters per hectare. But here...on the moon? Just 15! I know, right? Same vineyard density, same amount of work, if not more, same expenses and all for fully one-third of normal yield. Yikes.
But what does that all mean to you? Well first, there's no lack of concentration in the wines, even though I hesitate to use the word 'big', preferring save that for football players. And second, you've found a new place for dark-fruited, succulent wines. I can't think of another part of Europe, save Priorat not 3 hours away, where grape growing is so extreme and yields are so tiny. The commitment level from a winemaker is borderline fanatical, but look at her in that photo. Does she look unhappy?

With each visit, I sense that her wines are improving year over year. I think I've now tasted her best work ever, two wines called L'Enverre (upside down en francais). Caroline made just about 2000 bottles from the stingy but rewarding 2016 rouge and we snagged about 10% of the whole lot. Grenache, Carignane, and Syrah work beautifully together to make a dark, opaque and structured wine that will look good in the glass for years to come. I love the dark-fruited, succulent quality here. I'd call this one a "teeth stainer."
But the white L'Enverre is the realshow stopper. Made from 70 year-old Macabeo and Grenache Blanc vines and raised for 18 months in big old Burgundy barrels, it offers the weight of a Cru white burgundy, yet the freshness of the windswept Roussillon. A really remarkable bottle.