PRE-ARRIVAL OFFER #10 OF 2018
A Tuscan Six, 50 Years in the Making
Last July you may remember receiving an email entitled "Dan Beekley's Day Off". It was a really good day off. I spent it at one of my favorite places on earth--a Tuscan farm. And I passed the day eating, drinking and swimming with my favorite people on earth--my own family, and the owner's of that farm--the Goldschmidt/Ballarins.
The following day I got back to work and Aljoscha "Joschi" Goldschmidt and I got to talking. He was not a happy camper. He told me that 2017 was shaping up to be a vintage unlike any he's seen in almost 50 years living on this farm, the Fattoria Corzano e Paterno. "I had hoped you would bring some rain to celebrate," he said, ahem, dryly. Well, the rain never arrived and Joschi picked grapes in early August, just a few weeks after we left, vines heat stressed, leaves curled up brown, and little dust clouds kicking up in the breeze. Plus, he was already facing very low yields due to the early Spring freeze that most of Europe saw in April. On the surface, it was ugly.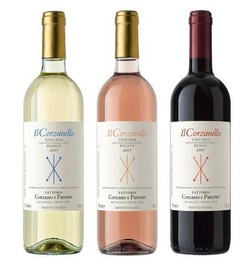 Then two weeks ago he wrote me a note to say that the 2017s would be bottled soon and I better get my request placed because after all that, quality-wise, he thinks the vintage has given hiim some of the best and juiciest wines he's ever made--especially for the "Corzanello" bottlings. "Tell your customers to load up, there's hardly any wine, but what I did make is just perfect!"
Then he enclosed this photo to show a label change because he never wants to forget that from start to finish the vintage gave him nothing but stress and headaches. But now that the wines are bottled and the moment has passed, he has found satisfaction, and this year he has vowed to work with a smile on his face.
I've learned too, that the half century mark gives perspective like that.
Corzano e Paterno Il Corzanello Bianco, Rosato, and Rosso 2017 6-pack
Two of each color
for just $75 on the six-pack
or $144 for a mixed case
Many of you will recognize these wines from past vintages. They're popular, and for good reason. This a Tuscan smorgasbord, ready for anything, and drinkable immediately upon arrival in about 90 days (let's call it mid-June). Retail price this year for each wine will be $17/bottle, but wrapped into this nifty 6-pack, on pre-arrival, they're yours for around $12. Hard to beat.
Corzanello White is a melange of white grapes--Trebbiano, Malvasia, Petit Manseng, Sauvignon Blanc, Semillon, and Chardonnay. All the grapes are co-fermented and this is the one and only white made from the property--a deeply rich, lively, somewhat grassy and smoky white with uncommon depth and complexity.
Corzanello Rosso is named for a house on the property and is the namesake of this pure Sangiovese, from a plot just below the house's terrace. Joschi releases this wine a year or two prior to the Chianti to give a sneak preview of what's to come. So..."baby" Chianti anyone?
Corzanello Rosato is a garnet-hued, super-freshing pink wine that makes me long for summer, a salad of mozzarella and tomato, and a long al fresco dinner around the pool. I was never a fan of pink wine from Sangiovese until Corzano's. Here the wine is "provencale" in style--lively, dry, refreshing, and pale.
To order please simply reply with "Sixer" or "Mixed Case" and I'll make the magic happen. Or, click the link or photo above to read more and order on-line.
A presto!
Dan