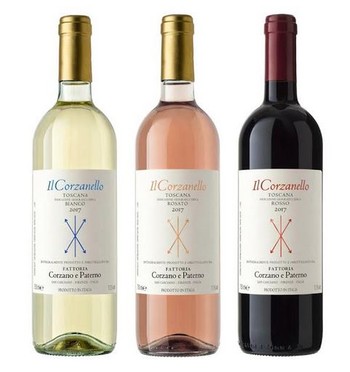 Corzano e Paterno Il Corzanello 2017s 6-pack
Bianco, Rosato, and Rosso on pre-arrival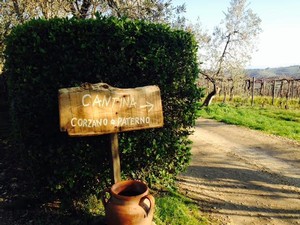 A few winters ago, I visited with a longtime friend in Tuscany--Joschi Goldschmidt (not very Italian sounding, I know). Joschi's family purchased this farm in 1969 after 700 years in the same family. It's a real treasure of a place. I've worked on and off with Joschi for years and when he heard I was importing again he reached out to see if we could rekindle something. Ticket booked.
If you, dear reader, manage to ever visit the fantastic farm of Aljoschi Goldschmidt in Tuscany, you will receive an email from him prior to your arrival. Contained within will be advice to NOT trust your car's GPS to find the winery, and should you choose to use the GPS anyway you will instead end up on a driveway suitable only for mountain goats. And your rental car will be toast.
So on my first visit to Corzano e Paterno, many, many years ago, I almost needed a new rental car.
After slowly backing out of the rut-lined "road", I made the 20 minute circuit around this large property and found the correct driveway. It's a long slow drive and one that you wish could take just one way in, and to never return to reality. This is an extraordinary Tuscan farm of olive trees, sheep (for Tuscany's best cheese), and wine. We'll get around to importing cheese and oil in the year's to come but its the wine that will lift our boat and introduce you to this incredible place.
Joschi moved here from Switzerland as a boy in the early 70s and knows the farm like the back of his hand. His near perfect English and easygoing, talkative way make visits here always memorable.

Joschi's Corzano e Paterno farm in the hills east of Siena is way more than just a wine winery. Among vineyards they also farm olive trees and raise Sardinian milk sheep for their onsite cheese operation. In fact, I think wine comes in 3rd here. Of 140 hectares only 13 are now planted to vines. It's one of my favorite visits in all of Italy--peaceful, beautiful, and filled with good things to eat and drink! I'd recommend a visit here anytime. Just say the word and I'll make it happen! (they have beautifulagriturisimo accommodations)
Arrives June 15, 2018
2 or more units
$72.00/unit