The sleepy village of Briona has one restaurant. We went in to ask about a bite to eat, only to find them closed for lunch (but open for coffee). The friendly guy behind the bar recommended a pizza place nearby and sent us on our way. But before we could leave he asked what we were doing there. I told him I was a wine importer and before I could say anything further he replied that I must be there to see his aunt. And with a nod, he concurred it was a good choice.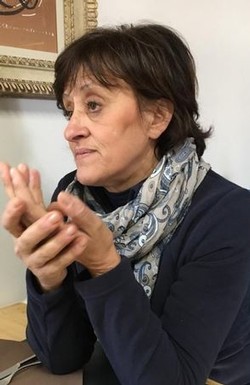 So as we were leaving, in a fit of incredible timing, Francesca Castaldi bounded up the steps and was about to enter the closed, yet open, restaurant. I recognized her from her website photo, stopped her, and we shared a greeting right then and there, an hour before our appointment. She then admitted that she was worried we wouldn't have eaten and was going to ask her nephew for some food to take back to the winery in case we were hungry. Perfetto! Instead, we can all go to lunch! And we did.
I get turned on by lots of things in my chosen profession. I love the pretty landscapes, organic farming techniques, geeky wine talk, artful labels, family histories, iconic buildings, and remarkable architecture. And of course, I adore settling into a great bottle of wine or two.
But on this day I was reminded of the thing that tops all those other things...
Francesca Castaldi could have waited at home for us and dutifully showed us around and poured us her wines when we arrived for our 1:30 appointment. But instead, what was she doing? She was thinking on the possibility that we hadn't eaten, and wanted to be sure we would be happy and comfortable while we were there. This was someone I had traded just one email with in order to set the appointment, and never had met before. Who does that?
You know the rest of this story. Everything about the day was perfect. Not only was Francesca's winery beautiful, her vineyards pristine, and her wines delicious, but the pretense from that chance encounter flowed right through until the goodbye. And a week later, after I had written a note of thanks and to say how impressed we were with everything (and to ask to buy some wine), she replied with this:
"I'm always happy when I realize that I'm doing something that can put people together and make them feel good."
For me, this is the most valuable lesson in wine. When we put aside all the pomp and circumstance seemingly attached to every bottle--the glossy photos, the oak barrels, the gravity flow wineries, the critical acclaim, the chemistry and technocracy--we have just one thing left. People.
The people that make it. The people that drink it. And everyone else in between.
People make wine interesting.
What more could we want?
Cantina Castaldi Alto Piemonte 3-pack
just $59 on pre-arrival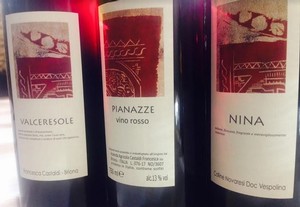 Francesca does her work in an area called the Novaresi--that is, the foothills of the Alps near Novarra. This is the true historical area of Piedmont for wine, dating back to medeival times. More recently, until the industrial revolution, there were 100,000 hectares of vineyards here. Today however, the area takes a back seat to the Langhe and the powerhouse that is Barolo and Barbaresco. And there are only 400 hectares left.
But that's good news. More great unknown wine waiting to be discovered at half the price!
I've chosen three really unique bottles to introduce you to Francesca's work. All are pure, mono-variety wines. You'll try a Nebbiolo, and Uva Rara, and a Vespolina--all pure, cool-climate, mountain wines, ruby red and packed with both fruit and savory notes. Our kind of stuff. All of them made with your happiness in mind...
The Nebbiolo 'Bigin' 2016 was simply decadent, like wiping your mouth with a silk napkin. Makes you understand while people go ga-ga for Nebbiolo.
The Uva Rara 'Valcerasole' 2017 reminded me of a really high quality cherry cough drop, but without the pain of a sore throat. Ruby red and satiny.
The Vespolina 'Nina' 2017 conjured a sweet old grandomther's perfume--floral and fruity. And filled with wisdom.
A 3-pack of these gorgeous wines will run you just $59 (regular $72) . But there aren't many to go around. I've been offered just 60 bottlles out of the tiny several thousand bottle production of each wine. You can grab a 6-pack for an additional 5% off, and mixed case for 10% off.
I expect the wines around mid-June as they were all just bottled in the past month. To order simply reply here with your request or click the link or photos above to read more and order on-line.
Saluti!
Dan