FROM THE PAGES OF ONE OF AMERICA'S BEST WINE LISTS
A LOIRE WHITE PRE-ARRIVAL OFFER
TGIF Cru,
When I tried to order this wine about a year ago, Fred Brochet informed me that it was gone, having made the list at the famed Le Bernadin in New York. That's a pretty tall order, and one that speaks to the wine's quality, rarity, and overall value. A blue ribbon moment for any winery.
So when I saw Fred last month he suggested that I grab some of the newly released 2015 before anyone else got their mitts on it. And I pounced. I mean, even the little guy needs a chance, right?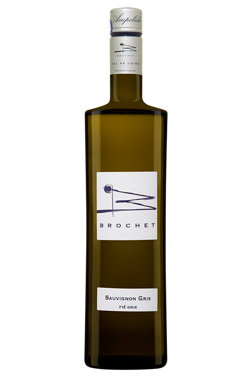 The bottle I'm referring to comes from Fred's eponymous line called Brochet--a label dedicated to small production, organically-grown, unique grape varieties of his native Haut-Poitou. In this case it is the impossible to find Sauvignon Gris--a strange mutation of Sauvignon Blanc that has darkened the berries to an almost rosy hue.
In fact, Sauvignon Gris grapes actually look pink hanging on the vine. After a gentle pressing the juice even runs a little coppery-colored. The wine ultimately holds this color and pours from the bottle seeming like a very pale rosé of sorts. But in the mouth, it is anything but a simple pink wine. For me it has the raciness and acidity of Sancerre, but couched with uncommon richness. I can't really think of anything else like it!
Fred packages the wine on a screw cap and in a very distinctive square-shouldered bottle. It demands this sort of "a-ha!" look and feel. And I've been allocated a mere 120 of 'em.
I guess Le Bernadin gets the rest...
Ampelidae Brochet Sauvignon Gris 2015
I'm selling this beaut for only $15, or slightly better on 6-packs--just $14. I expect the wine to arrive by the middle of August, in time for late summer fare, or a trip to the beach for some fish and chips.
To order, please reply to this email with your request, or click the link or photo above to read more and order on-line.
Cheers!
Dan