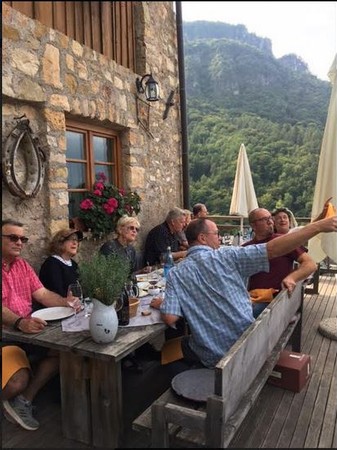 Zoom Tasting Happy Hour--PURE
For friends & family of Jess Dynda
Ready for Round 2?
We stand ready to ship a new six-pack out around the country so that you can all continue your super cool wine tasting and virtual happy hours together. The goal for this next round is the idea of "PURE" wines. That is, bottles made with just one grape variety, no blends.
With this six-pack we'll show off a mix of 4 red and 2 white wines. This is a nice half dozen bottles from Spain, Italy, and France that will give you a look into six different and important grapes that can be found throughout the world--Chardonnay and Gewurztraminer for the whites; Cabernet Sauvignon, Cabernet Franc, Gamay, and Nebbiolo for the reds.
Cheers!
Domaine Thibert St. Véran Champ Rond 2016, $34 (Chardonnay)
St. Véran is one of my personal go-to appellations for quality and value. It's a unique appellation for Burgundy in that it is split into two halves - one part is to the north of the villages that comprise Pouilly-Fuissé, and the other portion is below the southern limits of P-F, just above the border with Beaujolais.
The result is a Chardonnay that always has a unique and identifiable honeyed richness to it on the palate. The single-vineyard Champ Rond shows a little more "heft", or what the French call "gras" - fattiness. There is more of a Meursault-like hazelnut-infused mouthfeel, with the signature note of honey layered over a limestone core. What a great white Burgundy for the money!
Domaine Baur Gewurztraminer Herrenweg 2015, $19
It was at the "Caveau de Vigneron" in Turckheim, over a salt-crusted beef dish and some creamy potatoes, that I first tasted Thomas Baur's wines. He knew what he was doing by having me do this. Outside of tasting directly in the vineyard, there's no better way to enjoy wines like these--with a big plate of good stick-to-your-ribs food.
This is why I really love Alsatian wines. They have big, explosive aromatics; they whet the appettite; and have great acidity, perfect for washing down rich, full-flavored food. This is a bone dry Gewurztraminer--a full-bore miracle of a white wine, and a rarity for this grape variety. Many versions are sweet and cloying, but this one is dry and lively, my favorite style. You'll fall in love with these aromatics!
La Paroisse Cote Roannaise Coup de Foudre 2018, $19 (Gamay)
The Domaine de la Paroisse is a 7 hectare vinyeard and farm in the hills to the west of the city of Roanne. Local winemakers say, "Ici, commence la Loire." Here is where the Loire begins. Indeed it does. With far more famous vineyard areas farther downstream (Sancerre, Vouvray, Chinon), it is here, a few hundred kilometers from its headwaters, that we find the Loire's first vineyards.
This cuvée called 'Coup de Foudre' is made from some of Jean-Claude's "medium-aged" Gamay vines--in this case about 80-90 years old, and in a style that was favored by his father and grandfather before him. In this case it means a 1 year aging in old, upright barrels (foudres) to allow a silky, warm mouthfeel that gives way to layers and layers of concentrated Gamay fruit.
Ipsum Cabernet Sauvignon 2018, $18
Chateau de Brau PURE Cabernet Franc 2015, $18
There's a large range of wines here, yet I would call this a small winery. I was most excited by a lineup called Pure, and I could tell from proprietors Wenny and Gabriel Tari that they favored these too. Typically, in their region of Cabardès, it is required to blend a combination of Atlantic grapes (Franc, Sauvignon, Merlot) with Mediterranean (Grenache, Syrah, Cinsault, and others). And at Brau they have them all, nearly 20 different grape varieties all told! But, each year Gabriel separates a handful of plots to bottle single grape varieties in this Pure range. I think I tasted 10 altogether, each no more than a few thousand bottles produced! This is exactly the kind of stuff we're looking for...
This is a winery we'll go back to many many times over the years for a range of wines from classic whites, to dry rosé, to ageworthy reds. This 100% Cabernet Franc is always one of my favorites every time we taste together. It is ready to drink, like today, but will reward you with another 3-5 years of life in the bottle if you choose.
La Perla Rosso di Valtellina 'La Mossa' 2011, $37 (Nebbiolo)
My A-HA! moment finally came in a secluded valley about 100km northeast of Milan in the region of Lombardy. We were just 10 minutes from the Swiss border, in a seemingly very UN-Italian place, and here is where I tasted the most delightfully pure, complex, and all-around memorable Nebbiolo I've come across in years.
This pure Nebbiolo, called La Mossa, is aged up to 3-4 years in older oak barrels. It is as pure as the Alpine wild herbs found just up the steep mountainsides, and will reward you in a really large glass alongside a pasa dish with fresh wild mushrooms. It is a bottle that belongs in every wine lover's repertoire (and cellar).
Exclusively Available for friends & family of Jess Dynda