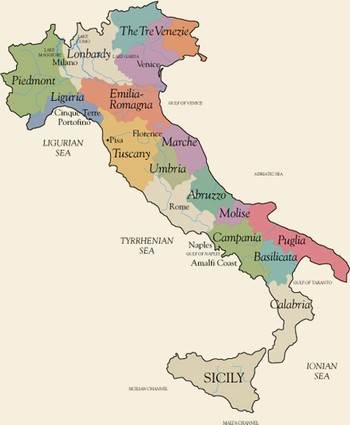 Zoom Tasting Happy Hour--A Tour of Italy
For friends & family of Jess Dynda
Round 3--A Tour of Italy
In the coming weeks we will be ready to ship a brand new mix, this time a sort of "Tour of Italy", with selections from some of Italy's most important regions and grapes.
With this six-pack we'll show off a mix of 5 reds and 1 white wines. The tour begins in Tuscany with a Chianti Classico, moves north into Piedmont for a Dolcetto and a Barbera, then heads east to find a red and a white from near Lake Garda. We finish in the very north, near the Swiss border, with a mountain red without parallel.
Cheers!
Poggio al Sole Chianti Classico 2017, $28 (Sangiovese)
The Davaz' make only Chianti Classico, each of their bottles adorned with the famous black rooster (gallo nero) that signifies the denomination. In fact, local wine people come to their vineyard, the most well-known viticulturists included, and claim that their vines are among the best 3 or 4 sites in all of Chianti Classico. For sure they are among the highest, situated almost precariously on a forested mountaintop.
The wine is made in stainless steel tanks then aged for a year and a half in used barriques to add roundness and complexity. This 2017 is a complex, wonderfully woven wine with great finesse from front to back. The year was particularly warm and dry, and resulted in a more masculine Chianti than is typical from Poggio al Sole. A terrific bottle to enjoy with a nice buffet of cured meats and hard cheeses.
Contrada di Sorano Dolcetto d'Alba Superiore 2017, $19
Hands down this is our smallest winery. Not just from a production standpoint, but from one of physical space. Once five of us were inside there was no further moving around. We all stood in place, spun in circles, took it all in, and then retreated outside, under an umbrella, and sat down to the most delightful visit and wine tasting I can recall in a long time. Wine after wine was filled with bright happy life. Sometimes during a tasting you just know. Well, at this moment we all knew.
Paolo and Cristina, up until now, have sold very little of their wine. They began their project in 2014 and were promptly greeted with a zero vintage, a catastrophic start that featured cold and rain, and they sold their entire crop without processing or bottling a single drip. The following year was better and they began making their first tiny bottlings--200 of this, 400 of that. The minuscule quantities are hard to fathom. Especially because this was their new livelihood.
Their Barbera is plain glorious, filled with a jammy presence of raspberry and black cherry, and featuring a little kiss of salinity on the lips, yet more like a rich and concentrated wine with each subsequent sip.
Crissante Alessandria Barbea Rugé 2016, $35
Alberto is now the 8th generation at the helm of the Crissante Allesandria winery. His grandfather was first to exploit their family's 2 hectares into bottled wine in the 1950s. Then, his father kept the status quo until Alberto's arrival on the scene in 2008. And over the past decade they have made significant investments to their land and facilities. Over the course of a 4-hour visit, we were methodically shown every square inch.
His attention to detail is fully on display, and the results clearly show in the finished product. There are no rusty old tanks here, or crusty and gross barrels, or mold growing on the walls (of which there are A LOT in Langhe). Instead, Alberto's two winemaking buildings are clean and organized, kind of 'un-Italian' actually, and as we tasted wines from barrel, while standing in the cellar, we actually could smell and taste fruit, an often impossible task in a dank Barolo cellar. It was a good sign.
This is a seriously rich and powerful Barbera. It comes from vines between 50-80 years of age, and shows off the concentration accordingly. A year in barrels followed by two more aging in bottle lend this wine a particular grace however.
Giovanna Tantini Bianco di Custoza 2019, $18 (Garganega)
I will never again be late for a meeting with Giovanna Tantini. As was the case when we met for the first time this past February, I was in fact 6 hours late. She expected me at 10. I got there at 4. It turns out we were both right, and both wrong. Having given up on me, she rearranged her day and made further plans. So when I arrived in the middle of her NEW plans, she was ticked. And I was embarassed, offering to return again a different day. But she brused that idea off, made a phone call, and then told me to get back in the car.
This a white you'll not soon forget. Made from the local Garganega and splashed with salt and pepper varieties Chardonnay and Trebbianello, it is a lively, gorgeous white with that oh-so refreshing summery freshness that we just love. In fact, we tasted this over the winter directly from tank, and I there was just no way in hell I was spitting it in the trench drain. When Giovanna served up so nice fresh salami chunks, I was hooked.
Giovanna Tantini 'Ettore', IGT Veneto 2012, $35 (Corvina with a splash of Merlot)
Ettore is made a little like Amarone. Corvina is left to dry for a short time on the vine, almost 3 weeks. Then, when it's brought to the winery, Giovanna blends it with some Merlot for plumpness and roundness. I generally don't go for Amarone, but this wine was bold and complex without all that mouth-puckering tannin and stewed plum. Six years in bottle doesn't hurt either! A very limited production wine of only a few thousand bottles produced each year.
La Perla Rosso di Valtellina Risera 'Elisa' 2013, $45 (Nebbiolo)
The young winemaker Marco Triacca is a handsome thirty-something Swiss Italian that inherited a few hectares from his father in 2009 and began his own winery a few years later. I would say that what Marco is doing is growing "extreme" Nebbiolo. There are no gently rolling hills here. In fact, the Valtellina seems only a few kilometers wide, flanked by steep terraces, craggy rocks, and houses that appear to jut out of the cliffs.
This is only the second time since 2009 that Marco has made a Riserva, and this one is a jaw-dropper. With only 3000 bottles produced, it is aged for three years (yes, 3. Not a misprint) in older barrels of varying sizes. Then it is stored for another 3 after bottling until Marco believes it to be ready for the market. The result is a miraculous, high-altitude Nebbiolo from Italy's most obscure appellation. A wonderful of example of beautifully aged red wine.
Exclusively Available for friends & family of Jess Dynda