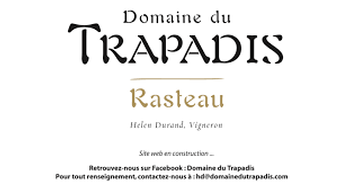 Trapadis Rasteau Cotes-du-Rhone Villages 2013
Fifth generation winemaker Helen Durand oversees 22 hectares of vineyards located around the village of Rasteau. The name Trapadis derives from the Provençal word for hole and is a reference to the spring located on the property. Having apprenticed at Beaucastel, Durand is at the fore of resisting the industrialized winemaking that has invaded the region.
Domaine du Trapadis dates back four generations to 1850. However, it wasn't until a marriage in 1942 that the two neighboring vineyards, owned by Helen Durand's great-grandfathers, united their families with a marriage. The neighboring plots of land became one to create what is now known as Domaine du Trapadis. The vineyard is cultivated without herbicides, chemicals, or synthetic products.
In the glass you will find leather, resin, mint, medium tannins, and a touch of caramel on the finish. The wine is harvested in the Southern Rhone Valley, grown in limestone pebbles mixed with red clay and the vines have an average age of about 35 years old. Composed of 70% Grenache Noir, 10 % Carignan, 10 % Mourvèdre, and 10% Syrah this wine offers beautiful structure and lots of finesse.
This item is currently out of stock.