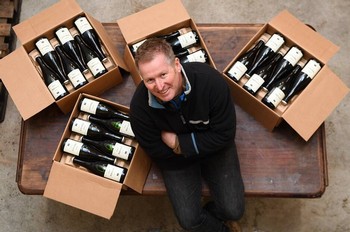 Toby & Julie Bainbridge Anjou 6-pack
Two Reds and a Sparkling Rosé, 2 each
Toby kicked off his agriculture career driving one of those house-sized combine harvesters all over the American west for a few years. At an Oklahoma weigh station he met his wife Julie, and not long after they hightailed it for France together to work in wineries and teach English in Burgundy. An opportunity with a Loire winery called Domaine Mosse (through an Aussie connection) planted Toby and Julie firmly in Chavagnes-les-Eaux, a whopping village of about 120 habitants not far from Angers.
Overall Toby works about 4.5 hectares of vines, mostly near Faye d'Anjou. There is Chenin Blanc for the white, and a little Cabernet Franc for playing around, but mostly he grows the little known Grolleau Noir--an ugly duckling grape variety if there ever was one. Why? Most Grolleau (or locally Groslot) lost its reputation over the years as it became the source of most the cheap and sweet bubblegum rosé that sells for 2 Euros a bottle in the discount grocery store. But a decade or so ago, a cadre of young winemakers arrived in Anjou and began rehabilitating both the vineyards and the image for Grolleau. And the results have been tremendous.
With this 6-pack, you'll receive 2 bottles each of the following 3 wines:
Bainbridge & Cathcart La Danseuse--The Dancer is Toby's beautiful sparkling rosé, a pale-hued wine with a good persistent foam, a minerally dry taste, and 25.4 oz of pure bubbly enjoyment. It should be your house pink sparkling wine and be happily served to all your holiday guests this winter. Regular at $26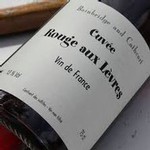 Toby & Julie Bainbridge Rouge aux Lèvres--Take this red bottling, playfully called Rouge aux Lèvres (Lipstick!), get it refrigerator cold, and enjoy. It is a simply made, yet thoroughly delicious example of pure Grolleau from a 90-year old vineyard planted on the local black slate. There's a fruit salad of red fruit here with a wonderful underlying fresh acidity. The naturally low alcohol makes this a true pleasure to drink. Regular at $19.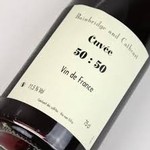 Toby & Julie Bainbridge Cuvée 50/50--When we visited together a few years ago Toby showed me a new label and a new wine, simply called 50:50. It blends those two delicious local grapes of Grolleau and Cab Franc. It's bottled in clear glass, like all his wines, showing it's transparent self to the world, and it is simply scrumptious. Again, served cool on a hot day, and all becomes well in the world (for a moment anyway). Regular at $18.