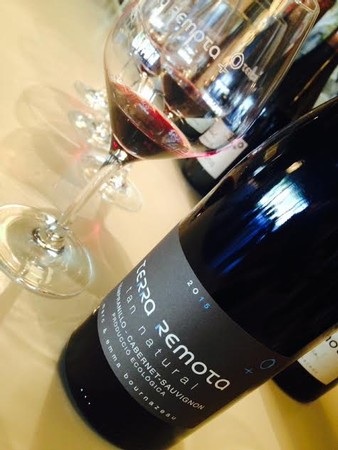 Terra Remota Tan Natural 2015
Here we have a wonderful blend of Tempranillo and Cabernet Sauvignon, grown near the sunny, warm Mediterranean, and on granitic soils. It is a combination of factors that at its very core will yield a wine to immediately fall in love with. This wine has everything--structure, minerality, richness, and complexity. I could stop right here in describing it and that would be enough to hook you I think.
If you lived within an hour of Terra Remota you would drive there and come home with cases of it in your car in order to make this your house wine. I know I would.
But there's more to it than that. In Catalan Tan Natural loosely translates to So Natural. After a lunch together with Marc a few months ago though I think a better translation would be: So....Natural?
One must see the surroundings at Terra Remota to appreciate the meaning. Owners Marc and Emma Bornazeau believe that prior to their development of a vineyard on this property, there had never been agriculture. EVER. (or at least as far back as records and a geologic survey showed)
To you and me this means untainted land. No chemicals ever. No heavy metals typically used in farming ever. No nothing. That's pretty incredible to think about.
However, they used a bit of sulfur in the winery. Like smart winemakers that want there wine to travel well, they HAVE to. Otherwise you'd be greeted with a mousy, dirty-smelling glass of red wine that would be oxidized in 30 minutes. Yuck. Who wants that?
So, here's something to impress your friends with, a "frankly" natural wine that takes care of its most important job, to stay fresh. And this one does. Try the same bottle over 3 days. The proof is in the pudding. A real eye-opener...
This item is currently out of stock.
Wine Specs
Varietal
Tempranillo/Cabernet Sauvignon