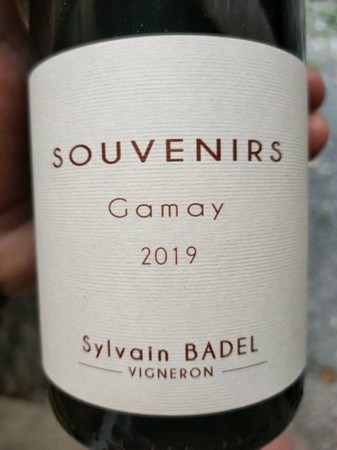 Spring 2021 CRUx6 Quarterly Reds
A wide array of reds this quarter from Italy, Spain, and France. Of particular note is a pure Gamay from an unlikely place--the northern Rhone. Get ready.
Three women winemakers on tap too. A new release from our friend Audrey Latard, a real bang for the buck Grenache. And speaking of Grenache, Caroline Bonville has a new label out called K'Talent. And finally, a Cabernet, Malbec and Pinot (!) from the talented Laura David in the Loire.
From Spain, the return of fan favorite Ales Negres from Terra Remota and because we can't ever get enough Barbera here, I'm rounding out the six-pack with Alessandro Crissante's beautiful Barbera d'Alba.
Enjoy!
Here they are:
Si le Vin Gamay Souvenirs 2019--Sylvain Badel is as easygoing of a guy I work with. There's always a smile on his face, and he listens with a Tony Robbins-type intensity. Before wine he worked in the technical side of the pharmaceutical industry. He didn't smile much and explains that now, he's happy every day. His winery is playfully called Si Le Vin (say it out loud and you end up with first name), and is found above the pretty town of Serrieres, high on the hillside above the Rhone, in the small village of Peaugres. Sylvain began his project in 1998 and it was only 10 years ago, after renovating and modernizing three different buildings, that he made his first wine and opened for business.
He now farms 6 hectares in Saint Joseph on what used to be his grandfather's apricot and cherry orchards. But seeing the potential for great wine, he slowly removed the trees and began the task of creating an organic viticulture where there was once none. Across the board Sylvain's wines are alive, energetic, and pure. I fell in love with them immediately. And during last summer's annual visit he blew me away with this wine--a pure Gamay (yeah, a Gamay made by a Syrah producer) that we found immediately delicious and alluring. He made just 1500 bottles so we grabbed 20% of it just for this club!
Laura David Mon Mojo 2019--Laura David's #1 red wine is simply called Mon Mojo. The way she explains it, her mojo is her "driving force", as if to say, "here is the wine that best reflects what I do, what I've always wanted to do, and what I will to continue to do best into the future." For her, mojo isn't fleeting, it's in fact always there. There's no need to "get it back" if it hasn't been lost in first place. A fantastic and unique blend of 80% Pinot Noir, 10% Cot (Malbec), and 10% Cabernet Sauvignon, made in tank to preserve fruit freshness and lend a scrumptious quality. Pinot gives bright red fruit aromatics, Cabernet gives a nice hit of tannin, and Cot gives the purplish color. Lovely if served slightly cool.
Domaine du Tave Cotes-du-Rhone Cuvée Creation 2019--When I first visited I took note of lots of construction materials lining the driveway--shingles, cement blocks, pipes--that sort of stuff. She was building/renovating a house on the property so she could finally live near the winery rather than commute from Vaison every day. I asked if she would install a sign for the winery along the road (I had trouble finding her) and she shrugged indifferently. It's just me, she said. I put up a sign, I only work in the tasting room. What happens to the vineyard?
But guess what she went and did? Installed a tasting room underneath the newly renovated house! I love this sort of matter-of-fact-ness. The gleam in her eye as I asked this question seemed to say, hey dummy, YOU found me--so can others (with an appointment)! Audrey's "Creation", as she playfully calls it, is rich, full-throated Rhone red of mostly Grenache. I would call it a wonderful summer barbecue but that might short sell it. You can decide for yourself.
Mas Karolina K'Talent Roussillon 2019--I know I've sounded like the grand ambassador for the Catalan Tourism Board over the years, but I just can't get enough. This region surrounding the Pyrenées near the Mediterranean is pretty wonderful. When you're ready for your next mountains-meets-the-sea destination, make plans for this part of Europe. It's a sort of demanding place though too. Oftentimes neither French NOR Spanish is spoken, but the rewards are great--especially in food and wine.
K'Talent is a new project from our longtime friend Caroline Bonville. Caroline purchases Grenach Noir from some old vine plots in nearby Maury to make this youthful, teeth-staining pure red wine. The idea is to show off something of a "house wine" style, ready to serve at any moment.
Crissante Alessandria Barbera d'Alba 2019--Alberto Alessandria is now the 8th generation at the helm of the Crissante Allesandria winery. His grandfather was first to exploit their family's 2 hectares into bottled wine in the 1950s. Then, his father kept the status quo until Alberto's arrival on the scene in 2008. And over the past decade they have made significant investments to their land and facilities. Over the course of a 4-hour visit, one will methodically be shown every square inch.
His attention to detail is fully on display, and the results clearly show in the finished product. There are no rusty old tanks here, or crusty and gross barrels, or mold growing on the walls (of which there are A LOT in Langhe). Instead, Alberto's two winemaking buildings are clean and organized, kind of 'un-Italian' actually, and as we tasted wines from barrel, while standing in the cellar, we actually could smell and taste fruit, an often impossible task in a dank Barolo cellar. It was a good sign. And this gorgeous Barbera is a good sign too. I like judging wineries by their leadoff hitter. This one is a homerun
Terra Remota Ales Negres 2018--This is a solitary, captivating spot that appears to be far removed from the rest of the world, and explains the name Terra Remota. Paradoxically, despite the remoteness of the location, this area has been occupied by human communities since ancient times. Thus, remains of settlements belonging to the Iberian culture have been documented in the region, which goes to prove the long history of the human presence in this territory.In recognition of this, for its logo, Terra Remota has used two symbols attributed to these ancient communities, engraved on blocks of granite: O+
Ales Negres is the "press juice" of every red grape the winery brings in during any given harvest. There's a little bit of everything here--Garnatxa, Cabernet, Syrah, Tempranillo. We often find that wines like this can be a great way to judge a winery. Sort of like the idea of soup. Start with great ingredients and the fnished stock pot can be pretty darn great. Drink now, while youthful.