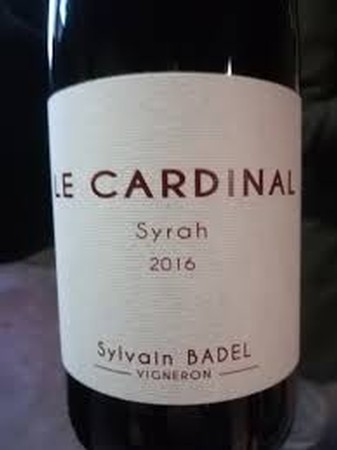 Si Le Vin Syrah Le Cardinal 2016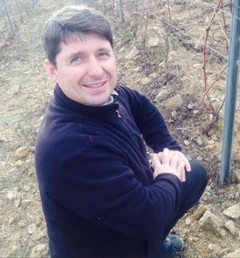 There are no bad days in the wine business. But there are strikeouts. This past month I hosted three other wine lovers on something of a "deep dive" through the northern Rhone for a few days. The idea was to explore the main appellations, and get a sense of what was going on there. We began our first day in Côte-Rôtie, an area famous for what are arguably the world's most heralded Syrah.
I've always been interested in the Syrah of Côte-Rôtie because vineyards are permitted to be co-planted and then co-fermented with up to 20% of the white grape Viognier. Okay, cool stuff. Let's go try some!
What we found however were examples of extremely expensive ($60-200) bottles that were internationalized versions (over-oaked, high alcohol, and too concentrated) of what I thought used to be a very elegant, sexy, silky red wine. Boo, hiss. Let's go have lunch with Sylvain Badel, our man in neighboring St. Joseph, and complain to him about our first-world problem over a chilled tomato soup and some stuffed peppers.
Sylvian giggled appreciatively when I explained this to him, and waved it away as only a Frenchman can, suggesting we remember our disappointment when we returned to the winery after lunch. He winked, as if to say, "I've got something for you."
This is as easygoing of a guy I work with. There's always a smile on his face, and he listens with a Tony Robbins-type intensity. Before wine he worked in the technical side of the pharmaceutical industry. He didn't smile much then, but explains that now, he's happy every day.
His winery is playfully called Si Le Vin (say it out loud and you end up with first name), and is found above the pretty town of Serrieres, high on the hillside above the Rhône in the charming village of Peaugres. Sylvain began his project in 1998, but it was only 10 years ago, after renovating and modernizing three different buildings, that he made his first wine and opened for business.
In 2016 Sylvain began thinking outside the box and gained some inspiration from the traditional Côte-Rôtie he also knew about. A few years earlier he began farming a small old-vine parcel outside of his main holdings in St. Joseph, a gorgeous heritage vineyard that incredibly was co-planted to about 90% Syrah and 10% Viognier--just like much of Côte-Rôtie!
He knew right away that this 1 hectare vineyard would become the home of his flagship wine.