 Sfriso Brut Sparkling Rosé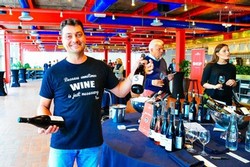 Pier Sfriso and Reka Haros are upending the Prosecco landscape. Well, they're trying anyway, by showing us that a winemaker can produce the stuff, enjoy drinking his own product (they're their own best customers), and maybe create a lasting business along the way.
They began their operation in 2003, with a mere 7 hectares (small for Prosecco), and barely functioning winery left to them by Pier's father. Over the next five years they broke their backs renovating, farming sustainably, and building their brand. But in 2012, after spinning their wheels and coming to the realization that their business model wasn't stable, they switched their focus away from restaurant and retailer sales and more toward the end consumer. It was a smart choice.
They finally found joy pouring wine for consumers, travelling around Europe putting on tastings and parties, and getting Pier face-to-face with the people that would utlimately be pulling the cork from the bottle. What they have now, after 5 years of dedicating themselves to actual wine drinkers, is a core group of loyal customers that buy up their wines nearly upon bottling. I feel lucky to get our hands on some!
Here is how Pier describes his Prosecco:
Prosecco was the sparkling wine we drank when we first met back in 1995. It was the main wine for our wedding in 2002, and we still drink it every day.

This Prosecco is unconventional due to its long charmat method of refermentation. In fact, it enjoyed a 6 months period of refermentation instead of the minimum requirement of only 40 days. This change resulted in finer bubbles, a fruitier and very delicate sparkling Prosecco.

It is a fresh and easy-going sparkling wine that knows how to keep good company in every situation. It matches perfectly with appetizers, seafood, and surprisingly well with spicy dishes. Prosecco is also very suited for the preparation of cocktails if you need to impress guests!