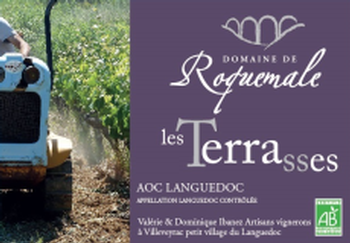 Roquemale Les Terrasses 2020
Appellation
Gres de Montpelier
Varietal
Alicante Bouschet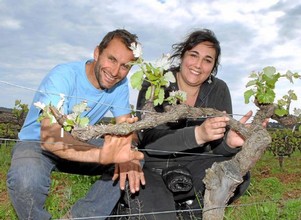 The Domaine de Roquemale is an 11 hectare property near Villeveyrac, about 30 minutes from southern French city of Montpellier. The vineyard is appropriately named, a local patois meaning 'bad rocks'. Indeed, a visit to Roquemale yields the visitor a head-scratching experience of wondering why anyone would try to actually grow anything here! In fact, the beautiful viaduct (pictured) was once used to carry bauxite from a local mine only a kilometer away to the freight yard and ships of the nearby city.
Dominique Ibanez and Valerie Tabaries began Roquemale in 2001, having searched high and low looking for just the right place. They had their "love at first sight moment" when they drove under the viaduct arches and stood among Roquemale's old vines and olive trees. The magic of that day translates well into their delicious bottles of wine.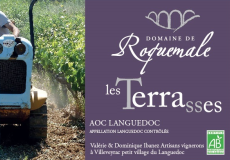 Les Terrasses is culled from Roquemale's upper terraces of Syrah, Cinsault and Mourvedre. I don't often think of red wine with spicy food but I think drunk a little cool this wine would be nice with a curry dish or something basque-inspired. No oak, full fruit, nice and juicy!
Wine Specs
Varietal
Alicante Bouschet
Appellation
Gres de Montpelier