Rey Si's Plau 2017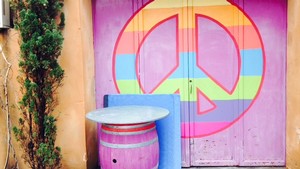 I met Cathy Sisquelle about a year ago under auspicious circumstances. She greeted me cordially on a sunny Saturday in the Roussillon (near Perpignan) and we began by having a quick tour of her small winery. As we stepped through the door, Cathy screamed and was instantly on my shoulders looking for protection. Of course I had no idea what was going on until she pointed ahead of us on the floor.
Snake.
Husband Philippe showed up a few moments later (the scream was loud) and looked at the two of us like we were total fools. "It's dead," he proclaims, and kicked it with his boot. It slithered away. Not dead.
Eventually Philippe found and disposed of the serpent and we merrily went about our business, neither of us liking snakes very much, but probably more intimately introduced to any winemaker I've met in 25 years of doing this.
Chateau de Rey is filled with that kind of peace and love. But I hope you'll wash down the memory of the snakes with this semi-sparkling, dry, drunk ice-cold Macabeo. We slurped this wine down with some local tapas back in February. Now you can too as summer continues on. I know we will.
Wine Specs
Varietal
Macabeo/Grenache Blanc
Appellation
Cotes du Roussillon