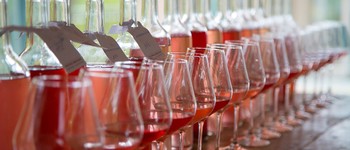 Pink Don't Stink 6-pack v.2021, Volume 2
A rosé worth discussing is a dry one. This simply means that the grape's natural sugars have all fermented into alcohol. Nothing more, nothing less. Once that happens the final wine becomes a refreshing and delightful example of really, really light colored red wine--red wine that's okay to drink cold, and drink often. In fact, I think rosé has completely turned a corner and is firmly in the mindset of the wine consumer. For perhaps the first time in a 25 year wine selling career I sold rosé all year last year. That's right, folks were jonesing a little summer reminder in January and February. Now that's an idea to embrace!

This is Volume 2 for 2020, a mix of my favorites of the year from France, with a token shout out to Catalan Spain. Here they are:
La Camarette Armonia Rosé 2020--You didn't think I would skip this one this year did you? A perennial favorite around here is this Provencal pink, nice and bone dry, and ready for anything.
Domaine du Tave Cotes-du-Rhone Rosé 2019--A brand new entry into the 6-pack this year, and one that is typically drunk with impunity in the cafés and wine bars of nearby Vaison la Romaine. Grenache does the heavy lifting here, creating a rosé with unusual complexity considering the $14 price tag. Delicious.
Pierre Martin Sancerre Rosé 2020--One of the mountain peaks of rosé for my money comes from an appellation far more known for white wine (and red wine too), than for pink. This pale, yet intensely-aromatic rosé of Pinot Noir is a finely tuned beauty. Save this one for one of those meals you work on all day!
Puits Compostelle Rosé of Pinot Noir 2020--Not to be outdone but the prior wines, Emmanuel Rouquette's Pinot Noir Rosé from about 30 miles upstream on the Loire, is equally fabulous. Technically in Burgundy, but spiritually a part of the Loire, I find this Pinot a little more rich and structured, given away by the darker, almost garnet color. A great pink for red wine lovers.
La Paroisse Coup de Soleil Rosé 2020--Roanne. Most French people probably couldn't even find this place on a map. Yet right there it is, smack in the middle of France, close to the headwaters of the Loire. And here is where Jean-Claude Chaucesse makes this sunny, vibrant Gamay-based rosé. You'll make friends with this one fast.
Mas Karolina 'Le K' Cotes Catalanes Rosé 2020--It's back after a two year hiatus! This light pink Grenache and Syrah blend reminds me instantly of this sun-baked region in the south of France near the Spanish border. The locals might drink it with an ice cube or two in the glass, but I suggest you just make it refrigerator cold and slurp it down!
Enjoy!