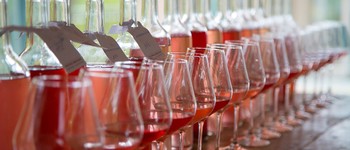 Pink Don't Stink 6-pack v.2021
Your Summer Rosé Sampler
A rosé worth discussing is a dry one. This simply means that the grape's natural sugars have all fermented into alcohol. Nothing more, nothing less. Once that happens the final wine becomes a refreshing and delightful example of really, really light colored red wine--red wine that's okay to drink cold, and drink often. In fact, I think rosé has completely turned a corner and is firmly in the mindset of the wine consumer. For perhaps the first time in a 25 year wine selling career I sold rosé all year last year. That's right, folks were jonesing a little summer reminder in January and February. Now that's an idea to embrace!

This year's mix is a Portuguese/Italian affair, one of the first pink mixes I've ever done that doesn't have a single French wine. But all over Europe we can now find remarkably delicious examples of quality, dry rosé. Here they are:
Monte Branco Alento Rosé 2019--What more can one say about rosé? Luis Louro's Alento Rosé, grown in the heart of Portugal's Alentejo, is everything one could want for their backyard quaffer, patio barbecue, trip to the beach pink wine. It is dangerously good. And at that price? Buy it by the case load...
Penada Ensaio Rosé 2019--Two Portuguese Rosé in one mix? You bet. This one is shockingly delicious, and one that I might call 'a rosé for red wine lovers.' The dark color points to something more akin to a red wine, yet in the mouth it is oh so refreshing. A first timer here, and one I hope we go back to again and again.
La Salceta Vino Rosato 2019--With it's distinctive glass cork and clear bottle, this is easily the classiest of our six rosé this year. Here we have a garnet-colored Cabernet Franc Rosé from the heart of Tuscany, grown in a small vineyard surrounded by olive trees. Reserve this one for a special summer meal.
Poggio al Sole Rosato Primavera 2020--We struck gold in Tuscany this year. I am never ever on time to order this wine and it sell out typically within weeks of release. But I got my reservation made in January this year and now we own one of the few bits of this pure Sangiovese Rosato to find its why out of Italy. More like a serious, lightly-colored red wine.
Contrada di Sorano Vino Rosato 2020--But it all. That's what we did here. It was the first rosé we committed too this year when Paolo Baudana wrote and told us he made a few hundred bottles (for fun) and would like a little. I want all of it, I told him. And now, here it is. Pure Nebbiolo rosé made by a Barolo producer. How cool.
Giovanna Tantini Bardolino Chiaretto, Veneto 2020--grown on the shores of Lake Garda and made by the indefatigable Giovanna Tantini. This was a popular addition the lineup last year and I figured why not go back? Corvina, the grape of Valpolicella, steals the show here.
Enjoy!