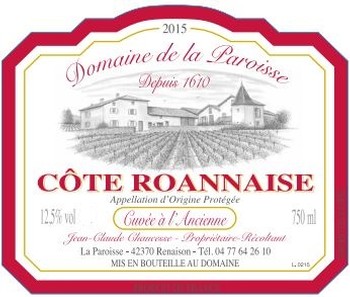 La Paroisse Cuvee L'Ancienne 2015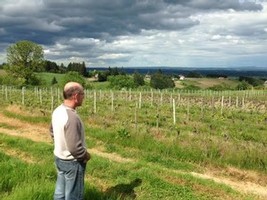 I spent a pretty and glorious afternoon with Jean-Claude about a year ago. I told him that I had visited a few other wineries in the region earlier that day and he winked at me as if to day, "well, you ended up at the right place." Four hours later I had made a new friend. We tasted some incredible wine together, learned an even more incredible story, and then we agreed to work together, with a handshake, while sitting at his kitchen table.
The Domaine de la Paroisse is a 7 hectare vinyeard and farm in the hills to the west of the city of Roanne. Local winemakers say, "Ici, commence la Loire." Here is where the Loire begins. Indeed it does. With far more famous vineyard areas farther downstream (Sancerre, Vouvray, Chinon), it is here, a few hundred kilometers from its headwaters, that we find the Loire's first vineyards.
We've come to really love this part of France. There is a sort of magic trio of cheese (mostly cow's milk), beef (its the home of Charolais cattle), and wine (some of the finest, yet little known, examples of Gamay in all of France). Homes are seemingly sprouted from the earth, mostly built with the region's granit rose, a pink-hued granite that makes most farming impossible, but grape-growing incredible! It is a flat out gorgeous region.
Jean-Claude Chaucesse (show-sess) and his wife Laetitia cultivate vines that are an average of 80 years old near the charming village of Renaison. He is the 13th generation of Chaucesse to farm the same land with documents showing the work to have begun in 1610. Over four hundred years later the property, and the work, has passed from father to son. Jean-Claude's two young sons seem primed to continue the heritage.
This cuvée calle L'Ancienne' is made from some of Jean-Claude's oldest Gamay vines, and in a style that was favored by his father before him. In this case it means a 1 year aging in older barrels to allow a silky, warm mouthfeel that gives way to layers and layers of concentrated Gamay fruit. A very ripe vintage in 2015 even adds to the complexity. A very fine wine that will make many of you pay more attention to this part of France, especially given the price!
Wine Specs
Appellation
Cotes Roannaise
Vineyard Designation
750 ml