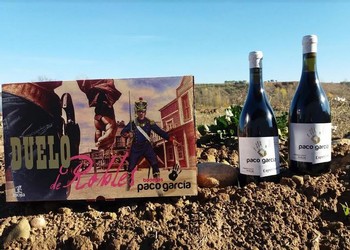 Paco Garcia Rioja Crianza Duelo 2014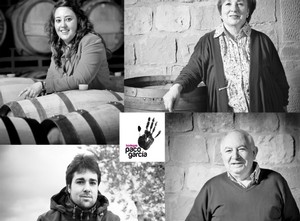 The Bodega Paco Garcia is in the Rioja Baja region, which is oddly named considering here are some of the highest elevation vineyards in the area. The winery is run by the husband and wife team of Juan Garcia and Ana Bengoa. They took over the winery from Juan's father in 2003 and only begain making their own wine in 2007. Their youthful enthusiasm is infectious and I think this is a winery to watch.
They farm about 25 hectares of vines but a fair portion is sold to the coopertiva with the best fruit from the best parcels reserved for their own wines. I knew right away that this would be a good visit but it was the wine tasting that put the proof in the pudding. There's none of that dirty, poopy Tempranillo here. No sir. Their wines are pure, juicy, and succulent, the way a product made from great grapes is supposed to be.
Each year, Juan and Ana create an Experiencia, a small production run of something unique and different. This DEUCE is Experiencia #3--a look at the effect of different oak barrels on the same wine. The results are pretty cool.
So, if you're game to try them side by side, among friends, go for it! Or, if you just want a couple bottles of really, really great Rioja from a dynamite vintage, this is a good score too. The two wines are boxed up in a neat little 2-bottle box--one side with an American cowboy and the other a fine, French royal queen.
What will your choice be?