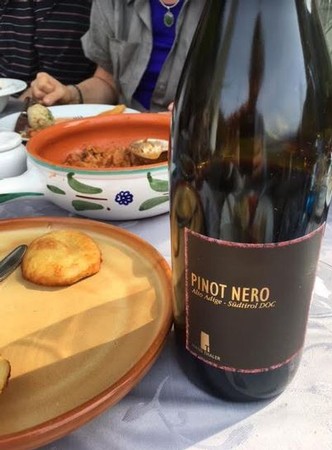 Maso Thaler Pinot Nero 2016 Magnums
This item is currently out of stock.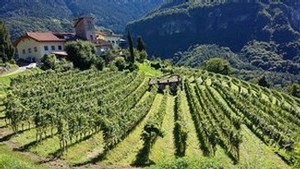 When I left Maso Thaler after first visiting them about 2 years ago, I drove 90 minutes back to the little B&B I like near Lake Garda in the small town of Custoza, just 15 minutes from Verona. I have made a casual friendship with the owner, Matteo, and he and I love to talk about wine together. And I trust his palate.
So I brought Maso Thaler's Pinot Nero to dinner at Matteo's awesome little restaurant and asked if he'd try it with me. He was busy, it was Saturday night, and I was dining alone, but he opened the bottle and we sipped a bit before he got slammed with service. He left the open bottle on my table to nip at on my own.
Throughout the evening he kept coming back to taste it again. "mmm, this wine is really good." And then, "Can I take some for a friend in the other room?" Two hours later the bottle was gone and Matteo was pretty charged up. "Don't pass this up," he says. "It's the real thing."
So I knew I wanted to buy Maso Thaler's wines after visiting with them but wanted to be sure it wasn't the light mountain air confusing my buds. It wasn't. Matteo proved me right.
Two years later and I have just left Filippo Motta again, this time following a lunch with 10 fellow travellers from the US, overlooking the Adige valley on a lovely September day. We punched out a small pile of Thaler's brand new release Pinot Noir, and it was singing and alive, just like it was two years earlier.
This is a truly extraordinary bottle of red wine. Pure Pinot Noir grown at nearly 2500 feet of elevation and yielding succulent and concentrated fruit. To me there's really nothing like it. There's a bit of saltiness on the lips that gives way to a wild bramble of dark, jammy fruit like blueberry and blackberry. But it's the palate that makes it. The wine just keeps giving and giving.
A fundamentally perfect wine from the difficult but rewarding 2014 vintage. An A+ effort.