Mas Seren Lilith 2016
Mas Seren is a virtual Narnia, nestled among forested hills and babbling brooks in the heart of the Cevennes in southern France. We first met Emmanuelle Schoch almost a year ago and from the first moment we knew we were onto somthing special. Her welcome was warm, and she gave the tour with her husband in their 1986 VW Vanagon. We were jealous--it was the camper version.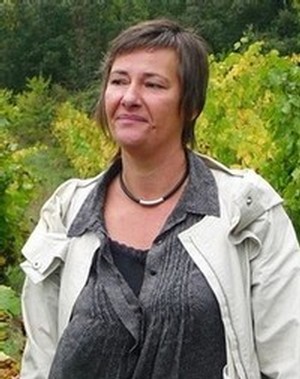 In order to reach her vineyards we drove 30 minutes through the Cevagnol countryside, down narrow roads and up and down switchbacks. It was glorious. When we came to a stream in the road Emmanuelle explained how the small concrete bridge was destroyed the day before harvest last year. It required them to pick all the grapes, get them by tractor to one side of the creek, then move them by hand to the other side and onto their truck. The story speaks to Emmanuelle's tenacity. Her vineyard situation may have struck me as fantasyland, but sometimes the work is all nightmare!
My notes upon tasting Lilith 2016 go something like this: "Picks up right where the 2013 and 2015 leave off. Outrageous aromas of spicy cherries, juicy, not exracted, no alcohol showing; WOW across the board."
As with all of Emmaneulle's wines, this one has an astronmical meaning--the moon's Lilith is its farthest point from the earth, the apogee of its orbit. But astrologically, I like the interpretation better. The Lilith explores the more hidden and mysterious forms of the feminine archetype--independence, rebelliousness, pride, and strength. Look at the photo of Emanuelle...I think I get it now.
You'll enjoy this remarkable wine upon its arrival here in April, but would be rewarded for another five years of storing in a proper cellar as well.