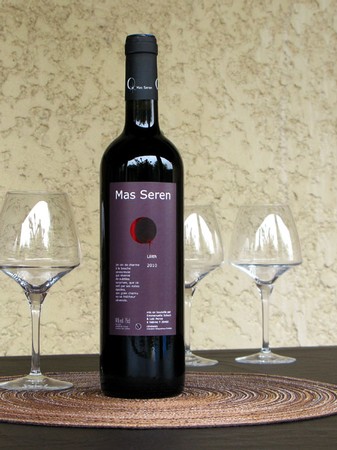 Mas Seren Deep Space Trifecta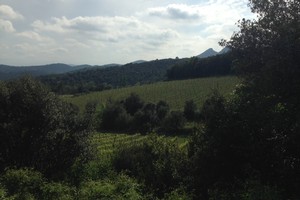 About four years ago I met with Emmanuelle Schoch at her home in the Gard near Montpellier. Along with her husband, Löic, we piled into a VW Vanagon and took a magic bus ride to her vineyards near Cevennes. What followed was an astounding 2 hour vineyard walk, the likes of which I've never experienced. It was like Narnia for wine dorks. Her vines and her plots were beautiful and meticulously farmed. Thirty-something parcels, all cloistered in the woods next to a small village. Unreal.
On the ride back to the house I was thinking to myself "Please, oh please, let these wines be good. Please don't be awful." Well, the tasting was equally fantastic. I looked at Emmanuelle and asked her on the spot if I could buy her wine. She said I was the first American that had ever a) tasted her wine, and b) asked, and then agreed, saying, "Yes, let's go for it!"
Etamin (named for the star Gamma Draconis) is a gorgeous, silky blend of Roussanne and Grenache Blanc. It sings with lovely aromas of white peach and nectarine, and sports a wonderful, rich texture. This bottle will look great on your spring table with a crispy-skinned roasted chicken and some fresh vegetables.
With the Lilith, a blend of Cinsault and Grenache, fruit is gravity, holding its feet to the earth. As with all of Emmaneulle's wines, this one has an astronmical meaning--the moon's Lilith is its farthest point from the earth, the apogee of its orbit. But astrologically, I like the interpretation better. The Lilith explores the more hidden and mysterious forms of the feminine archetype--independence, rebelliousness, pride, and strength.
Mintaka is the "Chateauneuf-du-Pape of the Cevennes", only an hour away on the opposite side of the Rhone yet seemingly worlds apart. Named after Orion's "dark star", Mintaka is one those wines that really stays with you. The aromatics of black fruits, African spices, and sandalwood lead to a structured, rich, and saturated mouthful of wine. Syrah and Grenache work beautifully together to create this magnificent, long-lived bottle.
With this 3-pack you'll receive a bottle of each at about 20% off the regular retail price!