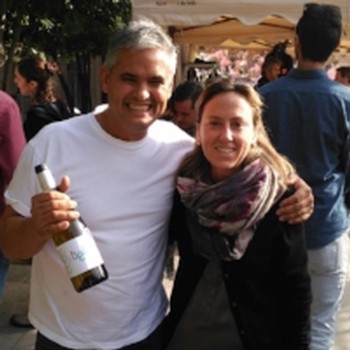 Mas Bella Rosat 2017

In the tiny village of Masmolets, somewhere in the old rolling hills between Barcelona and Tarragona, we find the hidden Mas Bella. The winery is the brainchild of Elisa Ribé a well known enologist in the region. Elisa works approximatley 12 hectares of vines but sells most of her fruit to local coopertivas for turning into Cava. But she keeps the best for herself and turns out only 10,000 bottles of wine each year. This place is as tiny as it comes.
Mas Bella puts the term "small winery" in a new light for me. They make a few whites, a rosato, and two reds. All her wine is sold in the village and in nearby Tarragona. They don't export outside of the region, let alone elsewhere in Spain or to other countries.
Road Cru is literally the first foreign customer EVER for Mas Bella. A win/win for everyone!
We first visited Mas Bella last fall. Elisa had a bit of rosé (called Rosat in Catalonia) left from the previous vintage but I didn't want to import a winter pink wine. Made no sense. But when I visited again this past February and tasted the newly bottle 2015--right from tank--I'm doubly glad that I waited.
Tempranillo (locally called Ull de Lebre) can be a strange wine for rosat. But not here. I think it might have something to do with the proximity to the sea. You'll notice right away the darker color, from a bit of extended skin contact, which often means sweet, but this wine is anything but. It is nice and creamy and rich, but fragrant and dry and actually quite lively with freshness and acidity. One can imagine slurping this stuff on a warm beach day!