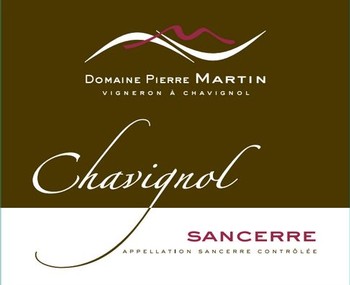 Martin Sancerre Trifecta--Red, White and Pink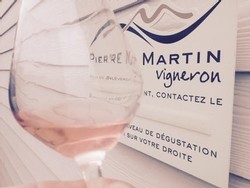 There is an imaginary thin white line in France, somewhat on the surface, but mostly underground. It stretches from Champagne, near Reims, southward toward Chablis, and finally ends here, in Sancerre.
What am I talking about? It's those little tiny rocks, baby. The calcaire and cailloux, the chalky white, marine sediment, marl and kimmeridgian, limestone-y earth and soil that makes the aforementioned wines what they are--quivering, mineralic, lively, refreshing, and oh-so magical. Really. I hardly ever meet anyone that says "eh, non" when offering them a glass of Champagne, Chablis, or Sancerre.
It's no accident that these are among the most beloved wines in France.
They are wines that can't be replicated anywhere else. Some may try, but it just can't be done. And never will be.
Our group visited with the affable, always smiling Pierre Martin yesterday. It was still a little unseasonably cold but we dutifully trudged up to his vineyard for a splendid view across the village of Chavignol. We mentioned to Pierre that his was the last stop for our group after 10 days in the Loire. He considered for a second and then replied, "Well, you saved the best for last!"
Pierre's not very modest, not usually anyway, and he laughed and joked easily with us all the while winking at me now and then and saying, "I think you need to order more wine!" Yeah, okay. So I did.
Pierre makes three white wines and they are all simply magnificient. I want you to try them all so thought I'd wrap 'em up into a nifty little 3-pack. Here they are...a red, a white, and a pink. Something for everyone.