Marigny Neuf Sauvignon Blanc 2016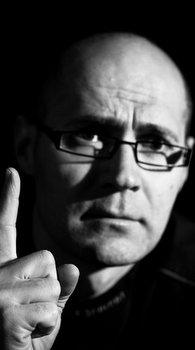 The area of the the southwestern Loire Valley called the Haut Poitou is relatively unknown by wine lovers. And that's too bad. More well known for the nearby amusement park Futuroscope, wide open spaces covered with cereal grains, and as France's saffron "captial", the Haut Poitou is at an ignored crossroads between Paris and Bordeaux.

Frédéric Brochet would like to see that change.
I first met Fred about ten years ago, having been sent there by a winemaker in the Roussillon who affectionately referred to him as le profeseur. The professor, I was told, could discuss wine in a new way, academically, but psychologically too. With a piqued curiosity, we made the call. And I'm glad we did.

Fred holds a PhD from Bordeaux University in the Perception of Wine (or he might say, the Science of Taste) and he's also a winemaker. After completing his studies in 2000 he was all set for a career as an academic but quickly became disenchanted with the bureaucratic system and the seemingly closed ranks of the Bordeaux empire. He says, "my passion is for creating stuff, not for filling out a dozen papers to be able to order a pen!" So instead he launched his own project, focusing on four hectares that belonged to his grandfather, and teaching on the side. (he spends four weeks a year at the Slow Food University in Pollenza, Italy)

His first year making wine he crafted just two barrels from a .5 hectare family parcel. He called the project Ampelidae, derived from the Greek 'Ampelos' (vine), and he was off and running. His creative and curious academic mind has caused him many trials and styles. For instance, during his master's study he spent time in the Australian Wagga Wagga and returned to the Haut Poitou wanting to make something akin to dark and brooding Penfolds Shiraz! The Professor was ready to experiment.

Over the years however, Fred settled on Sauvignon Blanc as the grape that would propel Ampelidae's name. The Haut Poitou sub-region is generally warmer than the famous vineyards of Sancerre, and almost always drier than the humid vineyards of Bordeaux. Sauvignon Blanc from the Poitou can gain richness and complexity while still maintaining clarity, brightness, and freshness.

The Professor now works with grapes from 5 of the 9 Marigny castles (hence the name Marigny-Neuf) in his immediate neighborhood, and has grown Ampelidae to a size that makes it possible to export some of his production internationally. But he doesn't forget his roots and his past. As a contemporary winemaker and academic, the future is his mindset, always wondering what to do next.