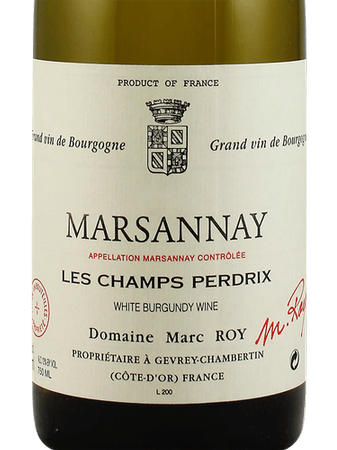 Marc Roy Marsannay Champs Perdrix 2017
A rare treat from my friend Scott Wright, a specialist Burgunday and Champagne importer. A really great white Burgundy, from an unheralded appellation, that will be a nice special bottle to open sometime this Spring.
Here are some thoughts from Scott on this wine:
"One of the real keys that delineates winners from the also-rans is vine age. Estates with a high proportion of old vines have a huge advantage, as the deeper root systems of the mature plants enable the vines to better weather the periods of drought stress - they don't shut down when the going gets tough like younger vines tend to do.

The Roy estate consists of vines averaging 70+ years of age - perfectly positioned to make a great range of wines from vintages like 2017.
The only White wine in the Roy stable, the Marsannay has developed a cult following of its own over the years. If you're not already familiar - picture the pretty floral nose of great Chablis and the precise salinity of Puligny-Montrachet, coupled with the supple muscle Chassagne. That is one mouthful of deliciousness! Extremely limited - speak now or forever hold your empty glass!"