La Perla 'Quattro Soli' Sforzato di Valtellina DOCG 2013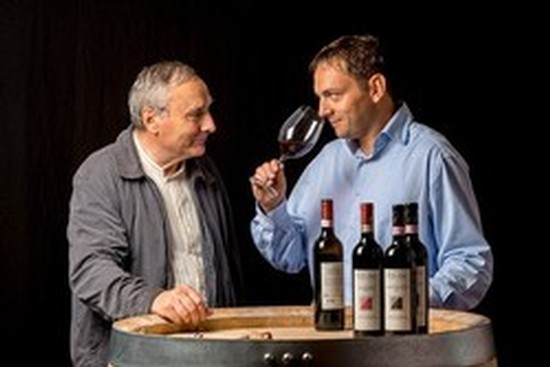 During the winter of 2018 I spent 5 days in northern Italy's hinterlands. I tried hard to get off the beaten path that most importers trod--in the heart of Piedmont looking for Barolo and Barbaresco. Like them, I was hunting for Nebbiolo, but I was looking for something different, something unusual, and something wonderful.

The A-HA! moment finally came in a secluded valley about 100km northeast of Milan in the region of Lombardy. We were just 10 minutes from the Swiss border, in a seemingly very UN-Italian place, and here is where I tasted the most delightfully pure, complex, and all-around memorable Nebbiolo I've come across in years.

The young winemaker we visited is Marco Triacca, a handsome thirty-something Swiss Italian that inherited a few hectares from his father in 2009 and began his own winery a few years later. I would say that what Marco is doing is growing "extreme" Nebbiolo. There are no gently rolling hills here. In fact, the Valtellina seems only a few kilometers wide, flanked by steep terraces, craggy rocks, and houses that appear to jut out of the cliffs.

The car strained up Marco's driveway at a 20 degree pitch and we parked next to his father's beautiful house. After a quick vineyard tour we settled into a Sunday lunch while he and his father poured wine, cleared plates, and seemed pleased with my facial expressions after every new sip.

There are just two wines from La Perla, Marco's sub-alpine vineyard. And Marco agreed to allocate us a small quantity of each. Both are astounding, and outstanding--among the best wines I've tasted in Italy in years.
But this one is the best...
La Perla "Quattro Soli" Sforzato di Valtellina 2013--"Quattro Soli" means "four seasons" in Italian and is appropriate since it takes nearly a full year to produce this wine from bud break in Spring straight through to vinification in the Winter following the harvest. That's right, grapes are picked in October but often not pressed until after the New Year--drying in an attic above the winery where they lose about 30% of their water volume (kind of like Amarone is made). I can still taste this wine 11 days later and I'm scratching my head as to why more people don't know about Sforzato. Try it, and you will become a believer. Dark, structured, ample Nebbiolo with an uncommon finesse and prettiness considering its made essentially from raisins. Wow. ($48)

This is a wine that belongs in every wine lover's repertoire (and cellar).