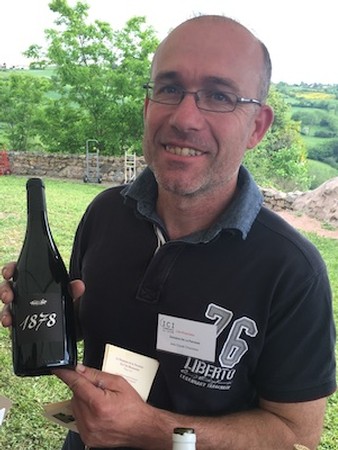 La Paroisse Old Vines Gamay 6-pack
Pre-Arrival Special Offer
With this six-pack you'll receive 3 bottles each of two different cuvées from La Paroisse in the Côte Roannaise.
2019 Coup de Foudre Vieilles Vignes
2019 Cuvée 1878
In what year did the following occur?
Edison makes electricity available for household use
Pulitzer buys the St. Louis Dispatch
First telephone installed in the White House
That would be 1878. Everyone on earth that was alive then has been gone for more than twenty-five years. (thinking about that makes me shake my head) This was also the same year that Jean-Claude Chaucesse's great, great grandfather planted Gamay vines on a small parcel of rose-hued granite near the city of Roanne. This was just four years after the phylloxera epidemic that killed nearly every vine in France. These vines still stand, still yield fruit (although not much), and make one of the finest bottles of wine I've come across in my 25 years of doing this.
I spent a pretty and glorious afternoon with Jean-Claude in 2015. I told him that I had visited a few other wineries in the region earlier that day and he winked at me as if to say, "you came to the right place." Four hours later I had made a new friend. We tasted some incredible wine together, learned an even more incredible story, and then we agreed to work together, with a handshake, while sitting at his kitchen table.
Arrives late November 2020