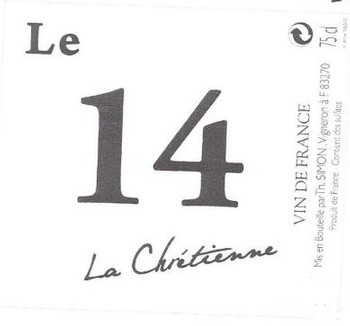 Chretienne Le 14 Rouge
When we first me Thierry Simon I stopped in my tracks. He was wearing a hat and at first glance he looked just like my father. Hence, he had my attention right away.
Thierry spoke to us in French, so thoughts of my dad quickly faded, but then we were riveted for another reason. Thierry's story is pretty dang good. Plus, we were in Provence, just 3km from the sea and the sun was out. Things were adding up well.
We found out that Thierry spent the "first half" of his wine life (as he puts it) as a courtier in Burgundy--searching for and purchasing grapes and wine for his discerning negociant clientele. I've met courtier like this before. The thing I know abou them is that they have great palates. They have no problem saying NO when a wine sucks, and their eyes pop out of their head when one is really good.
So, when a courtier cashes in to become a winemaker, one can expect good things.
Thierry purchased La Chrétienne in 1999 from a third generation winemaking family and slowly and surely began the task of renovating, replanting, and rebuilding its brand. He claims that in 2009 he finally hit his stride and began growing and making the wine he originally imagined. (I'll beg him for someo of these unbelievalble 09s at another time.)
Bandol vineyards are close to the sea, the Mediterranean exerting its warm, sunny infuence on every winery. Many locals believe that the grape Mourvedre has its ONLY home here, much like Viognier in Condrieu, and Chenin Blanc in Vouvray. And for my money, they're all correct.
Le 14 is Thierry's very brilliant idea of introducing people to Bandol (I wonder how many of you have ever actually had one?) without breaking the bank. He does a neat thing here, culling out barrels from his actual Bandol vintage and blending it with some young vine tank wines to create a really youthful, energetic red wine that forces one to say, "hmmmm....I wonder what the actual Bandol is like!?"
A pretty shrewd move and perhaps a question you'll come asking once you finally pop the cork on this beauty. Go prepare some fish stew and enjoy. Yum!
Wine Specs
Varietal
Grenache/Syrah/Mourvedre
Vineyard Designation
750 ml