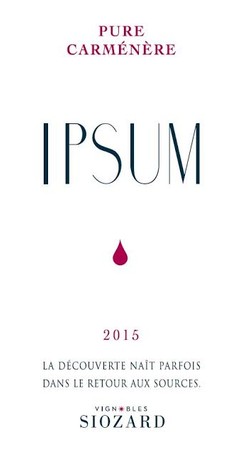 Ipsum Pure Carmenere 2020
This item is currently out of stock.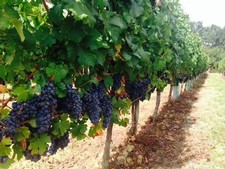 The photo here could like any other of grapes on the vine. But what makes this one unique is what exactly those grapes are. This is Bordeaux which might make one think Merlot, Cabernet Franc, or Sauvignon, right?
Maybe the two oddballs, Malbec or Peit Verdot. Nope.
Turns out there is a sixth allowed grape in Bordeaux, Carmenere. That's right, more ususally associated with Chile, but it had to come from somewhere, and Bordeaux is where it began.
Often called "the lost grape of Bordeaux", Carmenere is a deep, dark red grape, for years used to add color, depth, suppleness, and power to Bordeaux. Why it disappeared is anyone's guess.
Today, there are just 4 hectares planted in the entire region. No joke. Behind the winery of David and Laurent Siozard, near the village of Luguignac, we find a small 1/4 hectare--literally 20 small rows of vines. The brother's grandfather planted these vines in the 40's only to watch their forefathers blend it away into the other cuvees. But staring this year, they felt the time was right to let this plot stand on its own.
And boy does it work!
The boys decided to call this brand Ipsum--a latin word meaning "on its own" or "by itself". I find it appropriately named. This is as pure, wonderful, and unique red wine I've found in Bordeaux, let alone anywhere, over the past decade. It's that great.
Look for a concentrated, plummy, soft but concentrated red (more blue actually) that's just jam-packed with flavor intensity. That its called Bordeaux doesn't do it justice. It's truly nothing like most mainstream Bordeaux.
A must for you wine cellar!