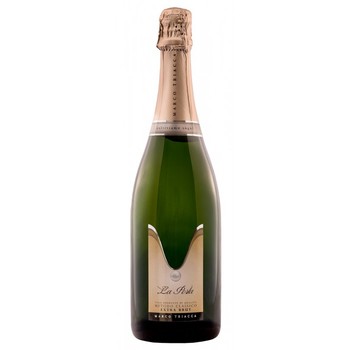 Holiday Mixed 3-pack
For friends & family of Jess Dynda
With this premium 3-pack you'll have three special bottles--one red, one white, and one bubbly--ready for any occasion. A red Bordeaux, a white Burgundy, and a shockingly good Italian bubbly make up the mix.
I hope you'll enjoy some of these on future Zoom tastings, and of serving alongside some of your most special holiday meals
Cheers!
Domaine Begue-Mathiot Chablis AC 2018, $28
The name of Guylhaine Begue-Mathiot came across my email one day, referred to me by another winery we're already working with. Guylhaine (Ghee-len, a hard G) was interested to meet us and we eagerly set an appointment. Her winery is about 3km from the very center of Chablis--hidden in plain sight!
We tasted a lineup of truly wonderful Chablis with Guylhaine on a cool day about 6 weeks ago. She was quite shy and reserved, in some ways apologetic about her wines, and eventually admitted that she didn't think they would suit the American palate. Why? Probably because there's not a splinter of oak in the whole winery--each wine is vinified and raised in tank and bottled as early as possible to preserve freshness and brightness. This wine is her 'welcome mat' offering--for me, a perfect example of youthful Chablis.
Villa Lucanius Bordeaux Superieur Grand Vin 2017, $29
Villa Lucanius is a new project from twin brothers David and Laurent Siozard. It was born of the discovery of an ancient Roman ruin next to their property some years ago. Their research led them to understand that the property was a vineyard and home owned by Lucanius, the brother-in-law of the famous poet Ausone, during the Roman settlement and occupation of Bordeaux in the 3rd century AD.
A first release from a particularly perfect vintage
A 50/50 blend of Cabernet Sauvignon and Malbec
Not just a power wine. A lovely savory element too with a lively acidity and freshness
Classic Bordeaux built for aging, but will reward the drinker in its youth as well
La Perlo Metodo Classico Extra Brut, Valtellina, Italy, $28
I love northern Italy's hinterlands. I try hard to get off the beaten path that most importers trod--in the heart of Piedmont looking for Barolo and Barbaresco. Like them, I go there hunting for Nebbiolo, but I am looking for something different, something unusual, and something wonderful. My A-HA moment finally came two years ago in a secluded valley about 100km northeast of Milan in the region of Lombardy. We were just 10 minutes from the Swiss border, in a seemingly very UN-Italian place, and here is where I tasted the most delightfully pure, complex, and all-around memorable sparkling wine I've come across in years.
The young winemaker we visited was Marco Triacca, a handsome thirty-something Swiss Italian that inherited a few hectares from his father in 2009 and began his own winery a few years later. I would say that what Marco is doing is growing "extreme" grapes. There are no gently rolling hills here. In fact, the Valtellina seems only a few kilometers wide, flanked by steep terraces, craggy rocks, and houses that appear to jut out of the cliffs. The perfect place to create cold-climate, high altitude sparkling wine like this one. Close your eyes and think: Champagne!
Exclusively Available for friends & family of Jess Dynda