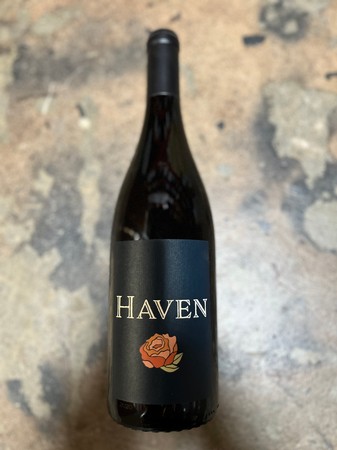 Haven 'Freja Vineyard' Pinot Noir 2018
Appellation
Willamette Valley
When you make a living selling wine, the perks are undeniably generous. Exploring some of the earth's most beautiful hills and valleys, intimate meals with winemakers and their families, forming friendships through hand gestures and a common love of wine, and sharing our adventures with you, the recipient of these bottles.
And while the benefits are many, Elizabeth and I sometimes ask ourselves, "What are we doing in this world that makes a difference?" It's a tough question to answer when you sell a luxury good. Sure, we donate to various auctions and such, and champion small winemakers and their families, but we often feel we are running a deficit in the social good department.
Nearly 10 years ago, a customer of Elizabeth's introduced us to Rose Haven, a local day shelter serving women and children experiencing domestic violence, homelessness, and poverty. Operating from the tiny daylight basement of a church in the Northwest, their approach to improving the lives of their clients was (and is) unlike anything we'd ever seen. "Seen" is a good word to use here. Rose Haven sees every guest in a way that builds confidence and camaraderie, allowing each to find a way through what is possibly the most difficult time in their lives. Volunteers serve guests of the day shelter, making them feel cared for and listened to as they help these women and families navigate everything from applications for low-income housing, transit passes, resume help, and medical care.
For a decade now, we've watched Rose Haven grow, doing our small part along the way to introduce them to friends and fellow industry buddies. But we've always wanted to do more.
Here's our chance — and, we hope, yours. Introducing Haven, a local Pinot Noir made in the Chehalem Mountains in tandem with our friend Willy Gianopulos at Freja Cellars. Three vintages, each chosen for their unique character, are being bottled, labeled, and sold to benefit Rose Haven — now, and in the future.
2018 Haven Chehalem Mountains Pinot Noir: a long, even growing season with cool evenings made winemakers want to burst into song. The hype is real, with 2018 being heralded as a year beyond compare. Ripe and rich, with bright acidity to give it staying power, this is the wine you want with pan-seared duck breast rubbed with exotic spices.
Wine Specs
Appellation
Willamette Valley