Hautes Noelles Muscadet Les Hautes Noelles 2015
A June 2019 Cellar Cru Selection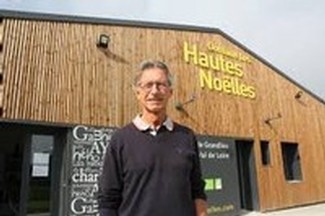 I "discovered" this wine over a perfectly cooked sole, drenched in lemon and butter, and served with the charlotte potatoes of Noirmoutier. We were with Jean-Pierre Guedon having lunch at his (and our) favorite spot on the Atlantic seaside in Pornic. And when the sole arrived, he leaned into his wine bag, an almost serious, yet devilish, look on his face, and pulled out a wrapped bottle.
I've known Jean-Pierre's wines for years, but have never seen this. We made eye contact, he nodded as if to say, "this is why you do what you do", and proceeded to pour. I took a smell, swirled it in the glass like a nerd, and laid in to my first sip.
My first question back to Jean-Pierre was, "you brought some white burgundy to lunch?" Because in my glass was an unctuous, somewhat fatty, white wine that coated my mouth with a honeyed richness that could only have been from Chardonnay. Maybe a Meursault? Puligny Montrachet?
He looked back at me as if to say, "Dummy, I make Muscadet. Why would I bring white burgundy to lunch?" But my reality told me that wine like this wasn't possible in Muscadet. Acids are typically too high, oak barrels usually lend a fake sweetness. What was going on here?
So Jean-Pierre explained that in 2015 he was provided with a growing season par excellence, and from his oldest vineyard (more than 90+ years) he dedicated a small portion of grapes to 4 barrels, constantly stirred the lees for two years, and then bottled it and waited. And this was the result.
Look, I love wine, and I really love a great story, especially from forward-thinking and experimental winemakers. But this stuff? It was almost ethereal. Maybe it was the sole, or the view, or the sunny day at the beach. Maybe it was how the seaside gave an almost salty kiss on the lips with every sip.
However you wanna shake it down , this is one the best white wines I've ever imported. Period.

Wine Specs
Varietal
Melon de Bourgogne