Hautes Noelles Muscadet Les Granges 2018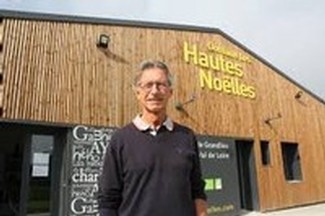 The appellation "Muscadet Côtes de Grandlieu" which was created in 1994, encompasses 19 villages and approximately 300 hectares of vines. One of these villages is St Leger les Vignes, where Domaine Les Hautes Noëlles tends approximately 7 hectares of vines planted to Melon de Bourgogne, the varietal of Muscadet.
Les Granges refers to a specific parcel of vineyard land that can be found on the cadastral map of the region. Domaine Les Hautes Noëlles have tended the vines via organic practices for the past 10 years. It is a Muscadet that truly reflects the characteristics of the vintage from which it came.
There is more than a faint whiff of the sea in this wine. For sure, only a 30 minute dry to the Atlantic can explain this, but the oyster shell and minerally sea salt sensation in this Muscadet are enough to get the salivary glands into overdrive!
Muscadet is a region in repair. Nowhere does one drive around a wine region and see more abandoned vineyards than here. Wanna be in the wine biz? Start here by purchasing some 80-year old vines but then watch as your prices are driven down by a depressed market. Truth be told, this $18 bottle is the winery's TOP OF THE LINE offering. If we were in Sancerre it might be triple the price.
Oh well, go buy some shrimp and oysters and have a ball with this limpid, tense, dry white wine from one of Muscadet's best!
Wine Specs
Varietal
Melon de Bourgogne