 Giovanna Tantini Bardolino La Rocca 2020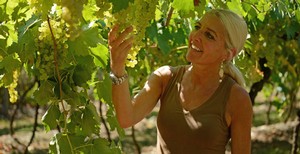 I will never again be late for a meeting with Giovanna Tantini. As was the case when we met for the first time this past February, I was in fact 6 hours late. She expected me at 10. I got there at 4. It turns out we were both right, and both wrong. Having given up on me, she rearranged her day and made further plans. So when I arrived in the middle of her NEW plans, she was ticked. And I was embarassed, offering to return again a different day. But she brused that idea off, made a phone call, and then told me to get back in the car.
What followed was a speedy trip through small roads in the village of Castelnuovo di Garda until we came upon her pretty old home, her friendly dog, and her impatient children (who were asked to set up the tasting--glasses, breadsticks, wines opened, etc...
Over the next 2 hours, Giovanna relaxed, and my red-face subsided. And I tasted a truly delicious lineup of red, white, and pink wines. I still can't believe she agreed to sell us some wine, but alas, here we are with a new rising star in Bardolino.
This intensely pink Chiaretto might be Giovanna's best wine. It was my favorite of our first day tasting together for sure. And in many ways this might be Italy's best source for rosé. The warm, sunny shores of lake Garda scream out for wines like this--dry, clean, and quaffable. But at the same time, pretty serious too.
I really enjoy discovering dry pink wines from unusual, but prominent places. This is one of those wines. Enjoy it now through Thanksgiving.