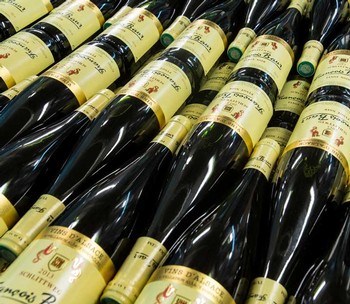 Baur Alsace Primer 3-pack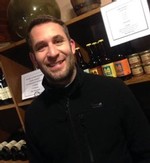 When I was first learning about wine I wish something like this had existed. Coming to understand and appreciate Alsacienne wine is a great step for any wine lover/drinker/connoisseur. It's too bad many people see the tall thin bottles and automatically think "cheap and sweet".
Cuz that just ain't so...
Thomas Baur's winery is located smack dab in the middle of Turckheim, one of the prettiest of all the villages of the Haut Rhein--and part of the famous wine trail that sits between the Rhine river to the east and the Vosges mountains to the west. It's definitely not Germany, and in many ways it's not even France.
It is distinctly Alsace. And there's no place like it.
This is both an introduction to Thomas' wines, but also a primer (whether you thought you needed it or not) of the three most important grapes of the region--Riesling, Pinot Blanc, and Gewurztraminer. And before we go any further, YES, all three wines are dry.
You'll get one of each of the following:
Riesling Herrenweg 2016--A benchmark vineyard for the appellation with Thomas' neighbors a veritable who's who of organic and biodynamic farmers---Josmeyer, Barmes, Zind-Humbrecht. This is Riesling with tension, loaded with apricot, peach, and passion fruit, yet lasered up with terrific acidity. For a $20 bill I can't think of many better Rieslings.
Pinot Blanc 2016--I typically dislike this variety, likening to drinking dish soap or suntan lotion. But, when it's grown on schiste (slate), and farmed to low yields it can be really damn interesting and delicious. Lot's of Thomas' Pinot Blanc is dedicated to his Crémant, but one small vineyard plot stands above the others and is dedicated each year to this single bottling. Ready for choucroute!
Gewurztraminer Herrenweg 2015--This is my holy grail from Baur. I have searched for years to find an appropriately dry Gewurzt (Geeh-veertz) from anyone, anywhere. Most versions have been either dessert-like sweet, or out-of-balance candied. But when I tasted this I eye-popped. It may be the most aromatically wonderful wine I import, redolent of lychee, geraniums, and candied orange rind. Wow oh wow oh wow.
You'll get one bottle of each in this intro-pack for just $54. But, the more you order the less you pay.
Make it a 6-pack for just $99 and be the star of the Thanksgiving Dinner!
2 or more units
$49.50/unit