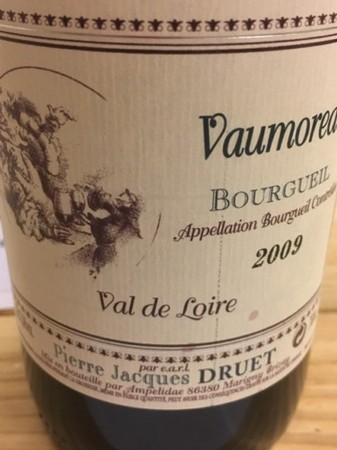 Druet Bourgueil Vaumoreau 2009
The professor sent me a breathless email late last summer. He had just purchased one of the top domaines in the Loire out of receivorship and along with it, ahem, 30 years of inventory.
Fred Brochet is the professor, and the domaine now under his guidance is that of Pierre-Jacques Druet in Bourgueil. Many of you might not even recognize the appellation name Bourgueil, but let's just say this: Druet is to Bourgueil (pronounced Bore-goy, loosely) as Petrus is to Pomerol, as Gaja is to Barbaresco, or as DRC is to Burgundy.
Pierre-Jacques, although evidently a challenged businessman, was a gifted winemaker with extraordinary vineyards. Beginning in 1980 he single-handedly revitalized the appellation through the technique of long maceration, followed by aging in old barrels (sometimes for up to 10 years), and over the decades created long-living, wonderfully complex wines from Cabernet Franc.
I remember having a Druet wine once with the winemaker Philippe Poniatowski in Vouvray. This was probably 15 years ago and the wine was already 10 years old, but still vibrant, complex and wonderfully rich. We commented to each other that it was just like drinking old Bordeaux--but probably far less expensive!
So, following the professor's email, I dutifully showed up last September to taste some of these fine old reds from Druet. I was greeted with a spreadsheet with vintages across the top beginning with 1983 and ending in 2010. The 2011s onward were still in tank or barrel. (!) Over the next few hours I tried about 40 wines and got a great sense of a very unique winemaking style, that of long aging in "bulk"--unbottled, that is. For instance, this 2009 Vaumoreau that knocked my socks off, had just been bottled in 2015!
You can imagine that when Fred announced his intention to sell off the older vintages of stock to help pay for the purchase, it was a feeding frenzy in France--especially among restaurants and cavistes. I got my reservation in early however and snagged 60 bottles this wine:
2009 Vaumoreau--The best of the lot, so much fruit still on the nose, big rose petal aromas, wet rocks, minerals, big richness and power. Could go another decade or more?