 Crissante Barbera d'Alba 2021
This item is currently out of stock.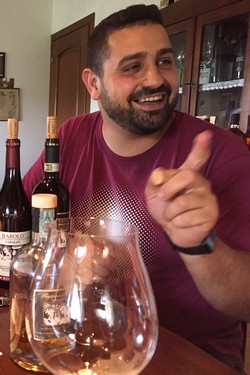 Alberto Allesandria is what might be referred to as "an old soul." After spending a hot July morning with him in his perfectly cool cellar, I was surprised to have him tell me he was just 22 when he took over the family business. Yet he sheperded us around like he'd been doing visits like this for 50 years, showing off his work with purpose and pride, and stopping routinely to answer questions and go off on tangents about winemaking, grape growing, and where to eat a good dinner.
My notes from our visit say, "A very confident young guy. Not a bullshitter."
The only moment he seemed to lose his momentum was when his mother arrived to admonish him for being late to lunch. He regrouped quickly and told her that he was just about done selling wine to these dudes from Oregon. Thankfully he reorganized his priorities for us!
Alberto is now the 8th generation at the helm of the Crissante Allesandria winery. His grandfather was first to exploit their family's 2 hectares into bottled wine in the 1950s. Then, his father kept the status quo until Alberto's arrival on the scene in 2008. And over the past decade they have made significant investments to their land and facilities. Over the course of a 4-hour visit, we were methodically shown every square inch.
His attention to detail is fully on display, and the results clearly show in the finished product. There are no rusty old tanks here, or crusty and gross barrels, or mold growing on the walls (of which there are A LOT in Langhe). Instead, Alberto's two winemaking buildings are clean and organized, kind of 'un-Italian' actually, and as we tasted wines from barrel, while standing in the cellar, we actually could smell and taste fruit, an often impossible task in a dank Barolo cellar. It was a good sign.
The family owns vineyards surrounding the frazione (hamlet) of Santa Maria and just below the pretty hilltop village of La Morra, a well-known address for Barolo lovers. There are a total of 6 hectares spread among 5 different parcels, all creating distinctly wonderful and delicious wines.